Simple Lunch Staple: Paleo Curry Chicken Salad
Do you have a recipe that you make regularly in your household? One that everyone asks for, and never gets old? I have a strong suspicion this Paleo Curry Chicken Salad is about to be added to that list of staples.
Now I know curry chicken salad is nothing new, its overdone actually. Everyone has their variation and claims it's the best. So why should you try ours? Well friends, I will tell you.
Our version has the following notable attributes:
It is super easy (shall I even go on?)
It's full of healthy real foods.
There are no crazy ingredients (everything can be bought at your neighborhood grocery).
Enough said.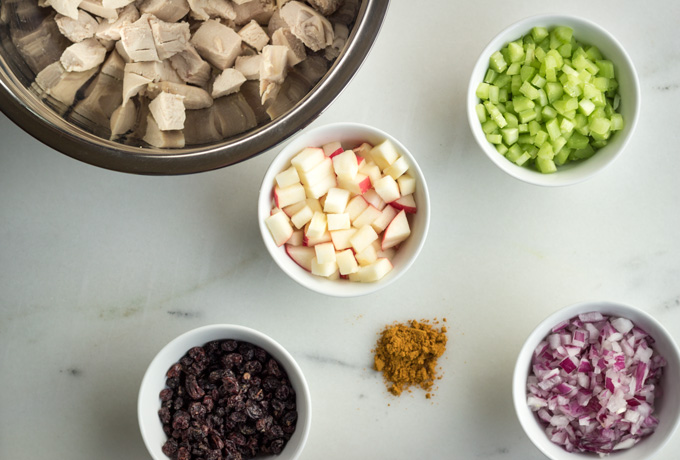 Next. let's discuss the flavors. Most curry salads have a few basic components. Spice, obviously, some crunch, a dash of acid, and creamy dressing.
Ours has all those things, but also LOTS of crunch (because, texture). We even managed to add in several sweet notes that work wonderfully with the spice, and a lighter creamy sauce that prevents the dish from feeling heaby.
Plus, serving the entire salad in lettuce cups leaves you feeling extra healthy.
Which means, you can eat more of the salad in one sitting. And why wouldn't you? It only gets better as it sits, gaining flavor and complexity.
This is certainly in our rotation of monthly staple meals. Now we are dying to know, what dishes are in yours?
Be sure to follow Well Rooted on Instagram and tag your recipes with #theWRlife! You can also share photos on our Facebook page. Thanks a million for your support!
This post contains affiliate links. View our full disclosure here, or contact us.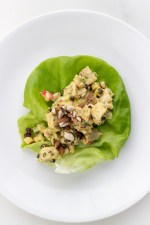 Curry Chicken Salad
Get ready to add this to your regular lunch/dinner rotation, it is seriously addicting. A sweet and warm spiced chicken salad that is rich and light all at the same time.
Ingredients
Poached Chicken
4

large boneless skinless chicken breasts

1

teaspoon

kosher salt

1

teaspoon

whole peppercorns

2

garlic cloves

peeled

1

small yellow onion

quartered

Handful of fresh herbs on the stem
Salad
Cooled chicken

cubed or shredded

2/3

cup

dried currants or raisins

3

celery stalks

diced

6

green onions/scallions

sliced thin

1

small Fuji apple

diced

1/2

cup

mayo (we like homemade Paleo mayo or Primal Kitchen avocado mayo

1

teaspoon

Dijon mustard

1/4

cup

extra virgin olive oil

1

tablespoon

honey

optional

2

tablespoons

fresh Italian flat leaf parsley

chopped

1

tablespoon

sweet curry powder

1

teaspoon

garlic powder

1/2

teaspoon

smoked paprika

1/2

teaspoon

kosher salt

1/4

teaspoon

fresh cracked pepper

Butter or Boston Bibb lettuce

separated into individual leaves

2/3

cup

roasted cashews or almonds

chopped
Instructions
Poached Chicken
Set chicken in an even layer on the bottom of a large high-sided sauté pan. Top with salt, peppercorns, garlic, onion and herbs. Fill the pan with water, so that the chicken is covered by 1-2 inches.

Set the pan on your burner, turn to medium-high, and bring to a boil. One boiling, cover the pan and reduce heat to medium-low. Let simmer 10 minutes, then check temperature. Chicken is done when it registers 165 degrees and is white throughout. Use tongs to move chicken to a cutting board and let cool. Cut into cubes once cooled.
Salad
Place chicken in a large mixing bowl. Add currants, celery, scallions, and apple. Toss to combine.

In a separate medium bowl, add the mayo, olive oil, Dijon, parsley, and all spices. Whisk to combine.

Scoop dressing onto chicken mixture and toss to coat. Cover bowl and set in the refrigerator for at least 30 minutes. The longer the salad marinates, the better the flavor.

Once chilled, scoop heaping portions of salad into lettuce cups, top with chopped almonds or cashews, and serve.
Notes
*Instead of poaching your own chicken, you can easily substitute 1-2 cooked rotisserie chickens. Either cube or shred the entire chicken, then proceed to make the salad.
**This is another recipe where we encourage creative substitutions. Swap shallots for green onion, sunflower seeds for almonds, add new spice options, and go wild. We regularly sample different options with this salad since we make it regularly. But nothing beats the original!