The Ultimate Warm Weather Dessert: Coconut Key Lime Custard Pie
Around the corner is a holiday weekend, and the official kick off to summer! I can hardly contain my excitement.  This means the start of pool season, the first of many cookout parties, plenty of time spent outside, and hello incredible food.
It is suddenly possible, heck preferred, to grill every night. To drink cocktails on the porch every night, and enjoy the sun not setting until 8:00 pm. Best time of the year people!
This also means the beginning of warm weather desserts. You know the variety, fruit crumbles, pies, ice cream with everything, popsicles, all the good things. And speaking of pies, I mean one of the pie kings, the almighty key lime.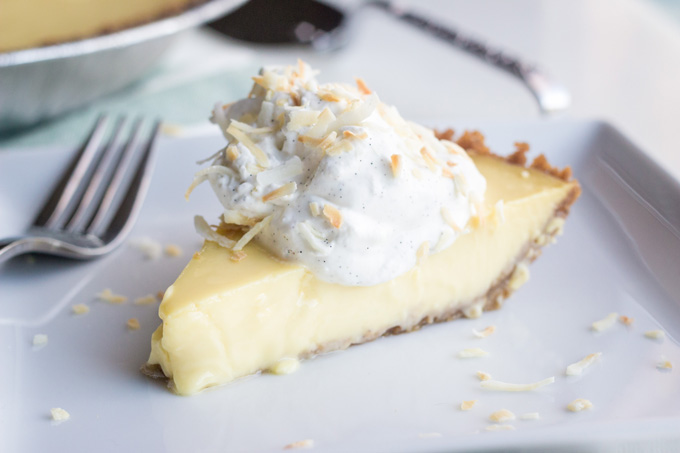 But first, I have a confession: I never used to be a big key lime pie fan. This was the source of major debate in our house for years, considering it's one of Garett's favorite desserts. If he saw it on a menu, we were ordering it.
For me, if I'm having dessert, give me chocolate or give me, well something else with chocolate included. And if we're talking pies as a dessert, it had to be fruit, severed warm and topped with vanilla ice cream. Because, is there anything better?
I also love coconut in all forms. Especially in desserts. I can thank my mom for introducing me to Mounds and Almond Joy, and I've never looked back. Best combo ever. And let's not forget coconut milk. It adds a creamy richness to any dish, savory or sweet, and makes all things better.
When I started learning about Paleo and found out coconut was a key element, I knew I could commit to this lifestyle no problem. I mean, coconut with every meal? Sign me up. Okay not really, but I do eat A LOT of coconut products.
So this pie marries Garett's love of key lime with mine of coconut. See how well I compromise? Can't tell me I'm not flexible.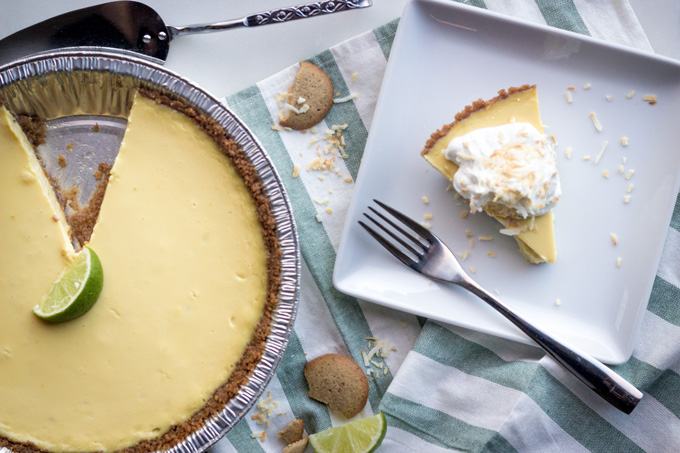 The result is such an improvement, we both have issues with regular key lime now. Get ready to throw your old standby out the window. Or maybe just give that one to your neighbors and keep this gem to yourself.
We serve this pie all throughout the warm months (so yes for like 3 months of the year here in Chicago). It begins with Easter, also graces the Memorial Day first of the season BBQ, and pops up throughout summer gatherings. This is such a lovely complement to a rich hearty meal, and cuts through all the savory dishes.
A hint for those really warm days – make the pie in advance and freeze as outlined in the notes below. But instead of defrosting it completely, serve partially frozen. It becomes part frozen custard, entirely awesome, and instantly cools you down.
Be sure to follow Well Rooted on Instagram and tag your recipes with #theWRlife! You can also share photos on our Facebook page. Thanks a million for your support!
This post contains affiliate links. View our full disclosure here, or contact us. 
Coconut Key Lime Custard Pie
A creamy dreamy version of key lime that will make you completely forget about the original.
Ingredients
Crust
10

inch

pie plate

7

ounces

Trader Joe's Ultimate Vanilla Wafers

or gluten-free graham crackers

6

tablespoons

unsalted butter

melted, or butter flavored coconut oil

2

tablespoons

sugar

or coconut sugar

1/2

teaspoon

kosher salt
Toppings
1

large can coconut cream

our favorite or 1 cup heavy whipping cream

1/2

teaspoon

vanilla bean paste

or the meat scraped from one vanilla bean, or vanilla extract

4

tablespoons

unsweetened shredded coconut

toasted

Crumbled vanilla wafers

or gluten-free graham crackers
Instructions
Crust
Preheat oven to 350 degrees.

In a food processor fit with the chopping blade, add vanilla wafers or gluten-free graham crackers and process until fine crumbs form. Add butter, sugar, and salt, and pulse to combine.

Press crust firmly into pie plate using the heal of your hand, spreading evenly over bottom and up sides.

Place in preheated oven, and bake for 10-12 minutes, or until golden brown, slightly firm, and dry. Remove and set aside to cool.

Crust must be completely cool before adding filling. You can chill the crust in freezer for 20 minutes to speed things up.
Filling
Decrease oven temperature to 325.

Add all filling ingredients in a medium bowl and whisk to combine. Pour into cooled crust, filling almost to the top but leaving about a 1/2 inch of crust peeking out around the edges, and place in oven.

Bake for 35 - 45 minutes, until the custard is set around the edges and the top is smooth and shiny. The filling will still wobble a bit when you gently shake the pan, but will firm up as it chills. Remove from oven, and let cool 2 hours at room temperature before moving to refrigerator to set for another 3 hours, or overnight.
Toppings
Once your pie is set, add coconut or heavy whipping cream to a stand mixer or a bowl (note that plastic will not work for beating cream). Beat with whisk attachment on high-speed, until stiff peaks form, 3-5 minutes. Fold in vanilla bean paste or extract.
Assembly
Top each pie piece with a generous dollop of whipped cream, toasted coconut flakes, and crushed cookies or gluten-free graham crackers.
Notes
*You can easily make this pie gluten free by using gluten-free graham crackers or a pre-made crust graham-style crust like Mi-del. Note the pre-made crusts are in smaller pans, so you will have almost enough filling for two smaller pies.
**The crust can be made several days in advance and kept wrapped in the refrigerator.
***This pie also freezes very well. Once it finishes setting in the refrigerator, wrap tightly and store in the freezer for up to 2 weeks. Remove from freezer the morning you plan to serve. Or for a fun twist on a hot day, serve partially frozen.
Recipe adapted from: http://www.marthastewart.com/329043/coconut-key-lime-pie