Paleo Apple Tart with Pear Cranberry Compote
It is with pure elation that I share this recipe with you today. I have been working on putting together a solid Dawn & Garett approved Paleo dessert for what seems like ages. Actually, I have been dying to perfect numerous Paleo desserts since transitioning to this lifestyle last year. I am happy to say that this Paleo Apple Tart with Pear Cranberry Compote is an excellent introduction.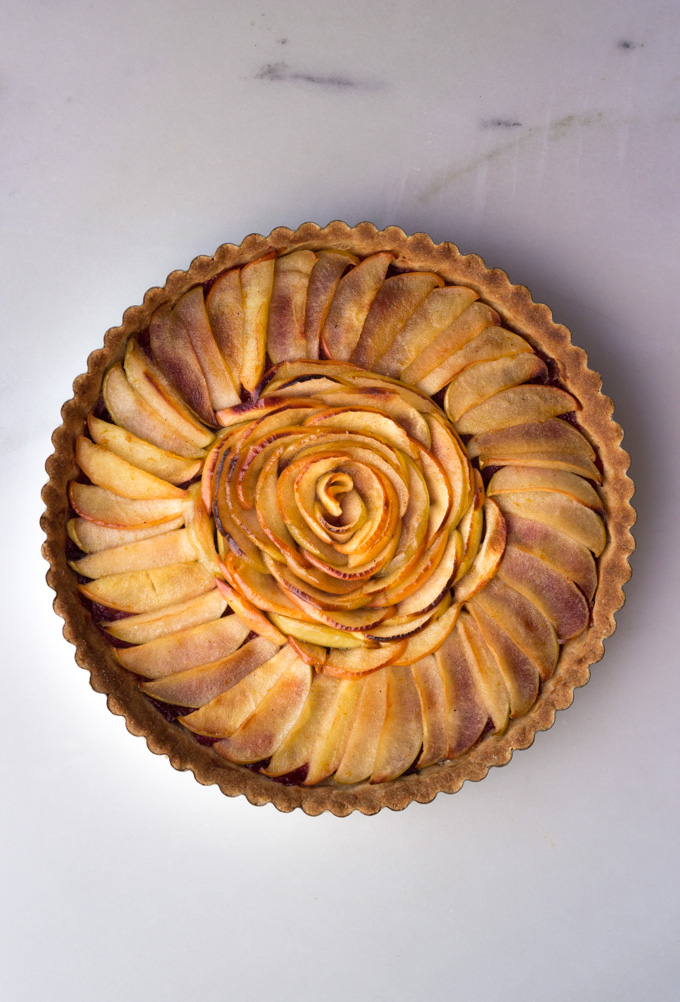 As evidenced by our dessert recipe history, I adore to bake. It's what first attracted me to the food world, and where my true passion lies. There is little else that gives me greater satisfaction than creating a pastry masterpiece.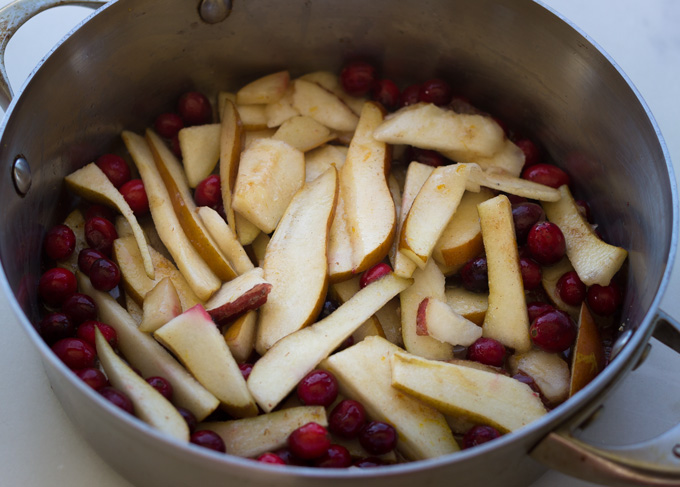 However, herein lies my challenge. I know and understand traditional baking. I've been doing it most my life after all, but it is quite another thing to wrap my head around Paleo baking. It's obviously loads different, and super challenging trying to convert some of my favorite deserts to a grain free, dairy free, and refined sugar-free alternative.
Truthfully, I have struggled quite a bit the last year. There's been dozens of failed attempts, bad recipes, unsuccessful conversions, and all around disasters. It took me a full year to find a resources that I could trust, and assisted me in re-learning the basics.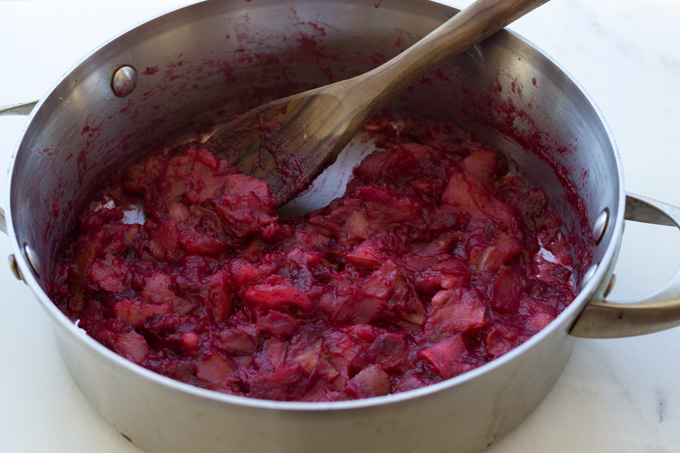 For my fellow enthusiasts, I would hand downs recommend the following books and sites to aid in your Paleo baking journey. It wasn't until I located these gems that I could truly embrace this craft. I now finally feel like I am getting my baking groove back. Hallelujah to that!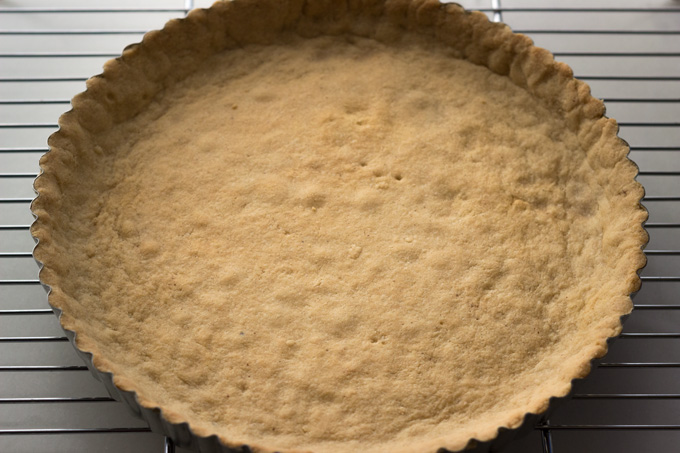 These are the two sites that have provided me not only guidance on Paleo baking, but incredibly trustworthy recipes, detailed instructions, and useful resources. These two ladies really know their stuff, and have created amazing Paleo baked goods, desserts and pastries.
My Paleo Patisserie by Jenni Hulet & her website The Urban Poser 
The Against All Grain cookbooks by Danielle Walker & her website Against All Grain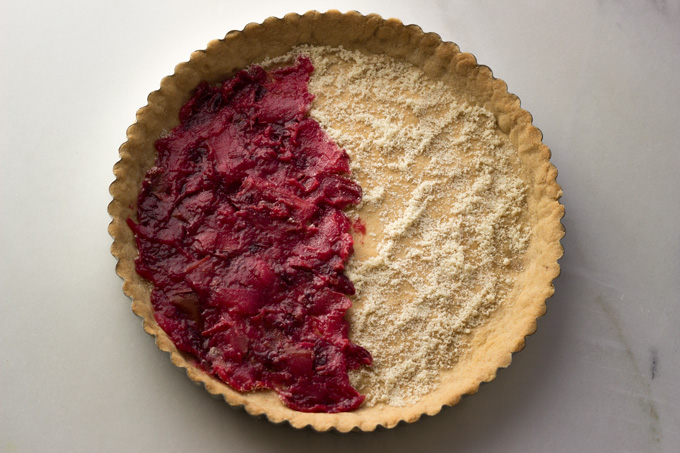 Anyway, back to this tart. I followed the crust and filling template from My Paleo Patisserie and made a few modifications.
For one, when time is limited and my schedule is jammed (see the holidays) I tend to make my baked goods a bit more rustic and accessible. Which in this case means I don't peel my fruit. Traditionally you would, and certainly can of course. However I happen to like the texture of the skin, as well as the color. Especially in this dish where the red and green are so festive.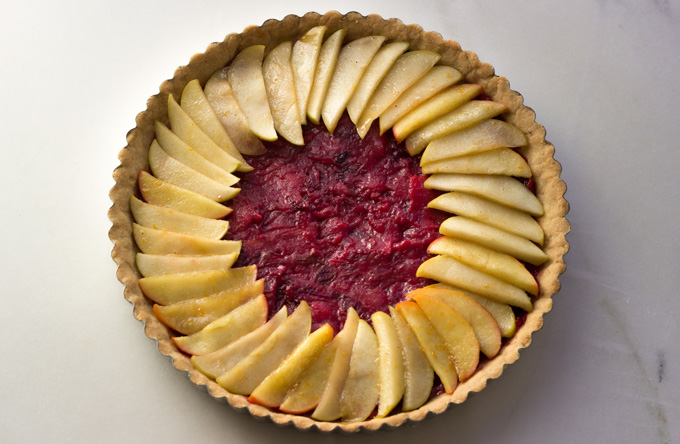 As an extra boost, I used pears and cranberries as the base filling, which not only adds more holiday color, but are a pleasant surprise underneath the seeming fancy apple slices. The slightly tart bite and jammy consistency of the quick compote is fantastic with the other elements at play. Plus cranberries, spice, and orange are holiday favorite flavors for a reason.
And seriously friends, this beautiful dessert is not hard to make. I swear! The crust is ridiculously forgiving, much more than traditional pastry dough. It takes some getting used to, but is actually super easy to work with. Never any evidence of cracks or holes in this crust. Oh and it comes together in 40 minutes. Yeah, no joke.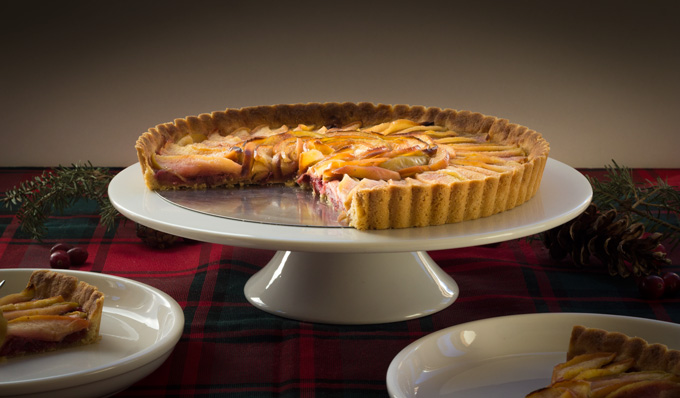 The crust is modified to include brown butter (bet you didn't see that coming), however you can just as easily use ghee or palm shortening. I love the butterscotch like flavor from browned butter that adds a richness to the dish.
The filling is super simple, consisting of cooked down mashed fruit. The most difficult part of the entire dish is arranging the apple slices on top. But guess what? There are thousands of photos online you can reference. And honestly, you can just overlap the slices in rows and it will still look artistic.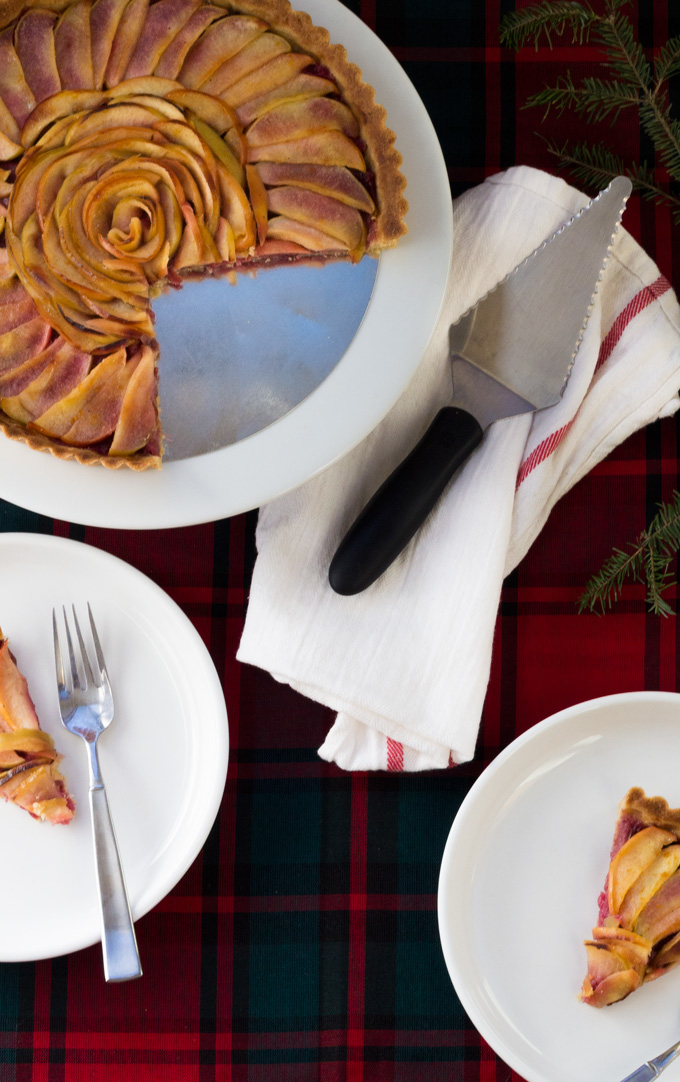 All in all, I encourage everyone to give this recipe a try. People will not know it's Paleo, or even care for that matter. Instead they'll be transfixed on the intricate spirals of apples, the surprise compote waiting underneath, and the crunchy buttery shortbread crust. Happy Holidays indeed.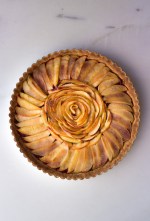 Paleo Apple Tart with Pear Cranberry Compote
Part traditional french tart, part rustic interpretation, this healthy dessert is full of holiday flavor and color. Because it is Paleo, gluten & grain free, dairy free, and refined sugar free, you can enjoy it with no guilt.
Ingredients
Special Equipment
Tart Filling
1

pound

firm pears

Bartlett or D'Anjou

1

pound

mixed tart organic apples

I use Granny Smith, Pink Lady and Fuji

1

cup

fresh cranberries

2

tablespoons

grass fed butter or ghee

divided (use palm oil for Vegan option)

4

tablespoons

honey or maple syrup

divided

1/2

teaspoon

vanilla extract

divided

1

teaspoon

orange zest

divided

1/2

teaspoon

Apple Pie spice

divided
Instructions
Shortbread Crust
Preheat oven to 325. If using brown butter, make this first and set in the refrigerator to cool and firm up before mixing into the crust.

In a large mixing bowl, add both flours and salt, and whisk to combine. Add wet ingredients and mix until combined and a soft dough forms. Form dough into a ball and wrap in plastic. Chill in the refrigerator for 20 minutes until firm. Dough should be chilled but still pliable enough to roll out.

While your dough chills, cut two large pieces of parchment paper and place on your counter top. Weigh down the pieces to keep them flat if necessary. Once dough is chilled, roll out between the two sheets of parchment, to a 11-12 inch circle, with about a 1/8 inch thickness. Transfer to a rimless cookie sheet (or use the bottom of a standard baking sheet) and freeze for 5-10 minutes. Again you want the dough to firm up, but not be too stiff. (See notes about rolling dough).

Remove dough round from freezer, gently peel off the top layer of parchment, and invert round into the tart pan. Gently peel off the second layer of parchment. Press dough into the pan, using your fingers to shape it against the bottoms and sides. The dough does break easily, however it is extremely forgiving. Use extra dough pieces to fill cracks or holes, which won't show after baking.

Transfer pan to the oven and bake for 15-20 minutes, rotating halfway through for even browning. Crust should appear light golden brown and feel slightly dry. Set aside to cool.

Once cooled, sprinkle the bottom of the crust with additional 2 tablespoons of almond flour.
Tart Filling
Core the pears and cut into 1/4 inch wedges. Melt 1 tablespoon butter, ghee, or palm oil in a large skillet over medium heat, and add 2 tablespoons honey or maple syrup, 1/4 teaspoon vanilla, 1/2 teaspoon orange zest, and 1/4 teaspoon apple pie spice. Add pears and cranberries, and stirring occasionally, simmer 8-10 minutes until the fruit is broken down and softened. Using a large spoon, crush pieces further to allow juice to release and bring the compote together.

Cook another 5-10 minutes or until a majority of the liquid has evaporated. Remove mixture from heat, transfer to a small bowl, and set aside to cool. Rinse and wipe out the skillet, then return to the stove.

Core apples and cut into uniform 1/4 inch slices. Melt 1 tablespoon butter, ghee, or palm oil in the same skillet over medium heat, and add remaining 2 tablespoons honey or maple syrup, 1/4 teaspoon vanilla, 1/2 teaspoon orange zest, and 1/4 teaspoon apple pie spice. Add apple slices and cook for about 5 minutes, or just until the slices start to soften. Set aside to cool.

Scoop pear cranberry mixture into the par baked crust, spreading to coat the bottom evenly. Add the apple slices on top, arranging in a concentric circle, rose pattern, or both. Melt remaining tablespoon of butter, ghee, or palm oil and brush on top of the apples.

Transfer tart to the warm oven and bake for 25-30 minutes, or until the apples are tender and beginning to brown. Rotate pan halfway through, and watch to make sure the crust edges are not burning. If they brown too quickly, use a pie shield or pieces of parchment or foil to cover the edges.

Remove from oven and let cool on a wire rack. Tart is best served the same day, but can be wrapped and stored in the refrigerator for a couple of days. Serve at room temperature.
Notes
*Paleo crust is very different from traditional crust, however it is honestly easier to work with in many ways. Do make sure and roll the dough between parchment pieces, as it is sticky and will adhere to any other surface. Do not fear if your crust cracks or breaks, simply paste it back together with your fingers and patch holes where needed. Once baked, you will never be able to tell.
**You can easily make this tart all pear or all apple per your preference, just be sure and use the same amount/weight of total fruit.
***I highly encourage using organic apples, especially since the skin is left on. Apples are consistently highly effected by pesticides.