Salted Malted Walnut Brown Butter Shortbread Bars
Holy mouthful. Salted Malted Walnut Brown Butter Shortbread Bars, aka how many words can I pack into one sentence. The name is hard to say, but it has a ring to it, doesn't it? Or I think so, though I also don't mind run-on-never-ending sentences either. Not that I don't know proper grammar, but I am a borderline millennial.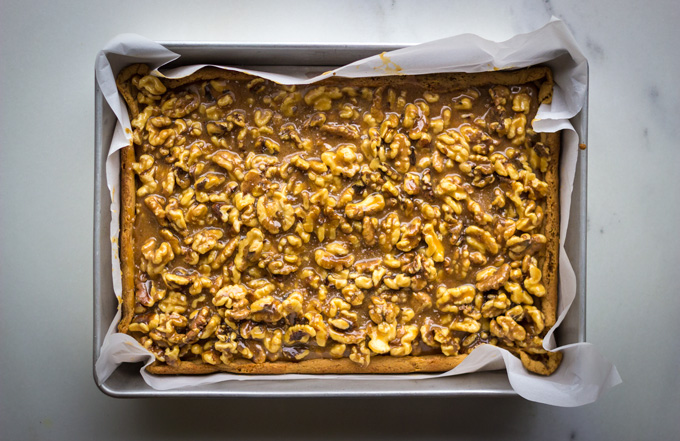 Which means I have the admirable characteristics of a short attention span, desire nearly instant gratification, and sometimes invoke a lazy writing style. Not so bad right? I know I know, but make me feel better and just say yes anyways. By the way did I mention I get distracted easily on semi-regular basis?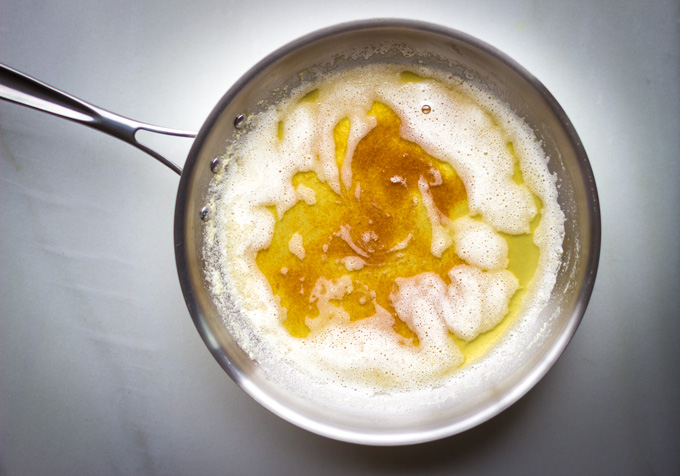 So, these bars. They are INSANE. Not for the faint of heart (or those with sugar problems) but they are dreamily good. I personally am super sensitive to sugar, yet I love it and crave it all the time. Why does the universe work that way?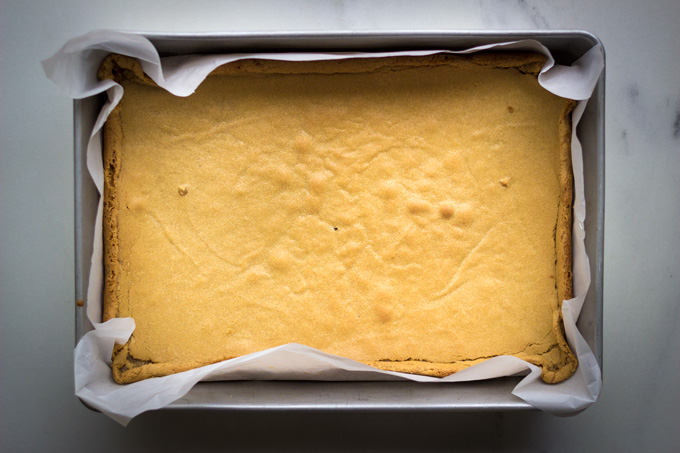 When I splurge and have a conventional treat, not only must it be worth the indulgence, but I need a little salt and/or savory goodness to balance out that sugar. And not only that, but a little fat to round out the sweet and salty notes. This is where brown butter comes in. Is there anything better than creamy, nutty, rich brown butter? I hardly think so.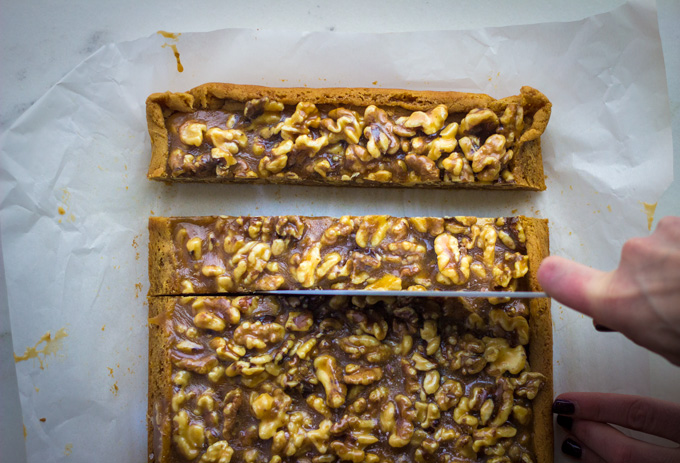 Then you have the shortbread crust, indulgent from said browned butter. Next comes the caramel, showcasing a definitive honey flavor, and one that varies based on the variety you use. Toasted walnuts get mixed in to amp up the richness and add a hearty crunch. And then, you get a slight surprise from creamed malt powder. Last but certainly not least, it finishes with a hint of sea salt to complete the flavor triangle. I am drooling already.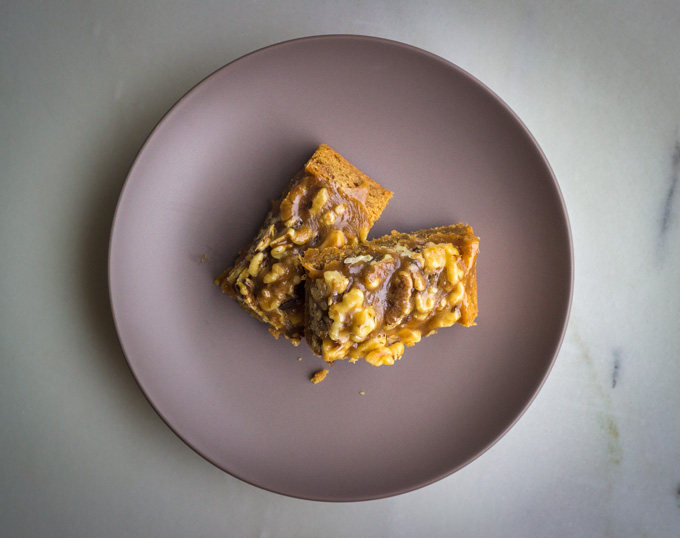 Okay the description just keeps going. much like my sentences. Nonetheless, this layered flavor harmony sings in your mouth, and will leave you wondering how on earth you haven't been eating these all your life.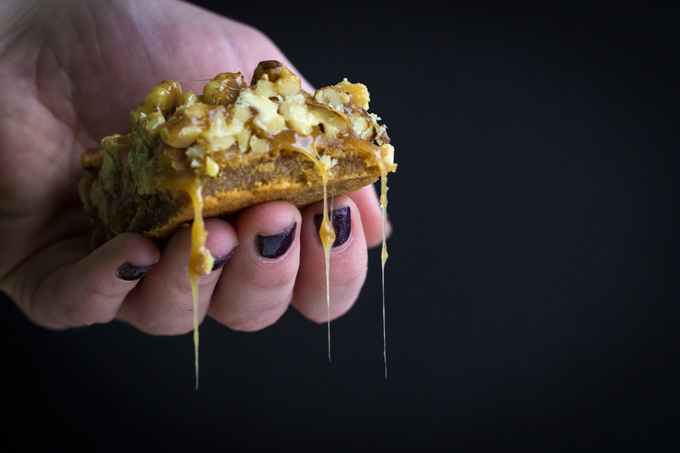 Serve the bars at room temperature so you get a gooey texture from the caramel, and with a side of milk for the traditionalist, or a side of beer for adventurist. Hint, go for the beer.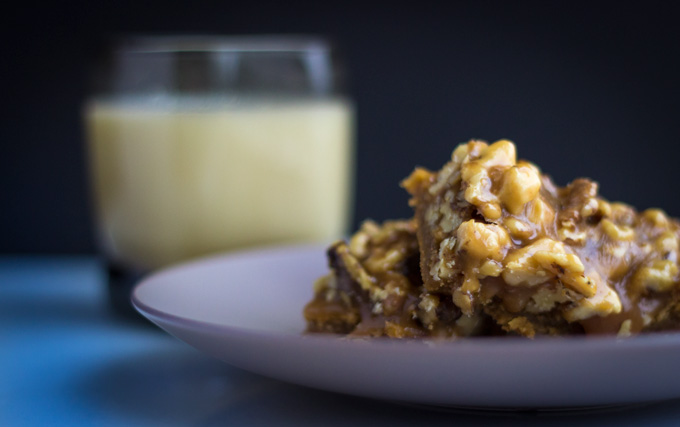 Be sure to follow Well Rooted on Instagram and tag your recipes with #theWRlife! You can also share photos on our Facebook page. Thanks a million for your support!
This post contains affiliate links. View our full disclosure here, or contact us. 

Salted Malted Walnut Brown Butter Shortbread Bars
Brown butter shortbread, salted malted walnut caramel, and sea salt are layered together in these incredible dessert bars.
Ingredients
3

cups

walnuts

halves and pieces

1 1/2

cups

flour

2

teaspoons

baking powder

1

teaspoon

kosher salt

12

tablespoons

unsalted butter

1 1/2 sticks

2

cups

packed light brown sugar

2

large eggs

1

tablespoon

vanilla extract

Hot water

2

cups

sugar

1/2

cup

water

1/4

cup

honey

4

tablespoons

1/2 stick unsalted butter

1/2

cup

heavy cream

1/3

cup

malted milk powder

1/4

teaspoon

kosher salt

1/2-1

teaspoon

Sea salt to taste
Instructions
Preheat oven to 350 and line a baking sheet with parchment paper.

Spread walnuts in an even layer on sheet pan, and bake 5-7 minutes, until lightly toasted and fragrant. Toss occasionally. Remove pan from oven and let cool.

Spray a 9" x 13" metal baking pan with nonstick spray, and line with parchment paper, leaving an overhang on the short sides of the pan. Set aside.

In a medium bowl sift together flour, baking powder, and salt, then set aside.

Melt butter in a medium sauce pan over medium heat, stirring frequently. Cook until light brown bits form on bottom of pan, about 8 minutes. Remove from heat.

In a stand mixer fit with the paddle attachment, add brown sugar and browned butter. Mix on medium until combined, about 2 minutes.

Add eggs and vanilla, and mix until light and fluffy, another 2 minutes.

Add flour mixture, and beat until combined and a thick dough forms.

Pour batter into parchment lined pan, and smooth into an even layer using a butter knife or offset spatula. Bake shortbread until golden brown, edges crisp and separate from pan, and a toothpick comes out mostly clean, 20-25 minutes.

Transfer pan to a rack and cool for 15 minutes, then transfer to the freezer for another 15 minutes. Crust should be cooled completely before topping with caramel mixture.

Fill a small bowl with hot water and place your pastry brush in the water. In a separate small bowl stir malted milk powder into heavy cream and set aside.

While the short bread is cooling, make your caramel. Heat sugar and water in a large sauce pan over medium-low heat. Stir frequently until sugar dissolves. Increase heat to medium and bring to a boil. Do not stir, allowing sugar to brown. Every 5 minutes or so, swipe your wet pastry brush against the sides of the pan to prevent burning.

Once the caramel is a deep Amber color, after about 15 minutes, add honey and bring to a boil again. Using a wooden spoon, stir frequently and cook another minute.

Add in butter, stirring constantly to mix. Add cream-malt mixture and salt, and whisk until all ingredients are incorporated and caramel is smooth. Remove from heat.

Fold in walnuts, then pour entire mixture over cooked crust. Sprinkle a generous amount of fresh cracked sea salt over top. Transfer pan to refrigerator and allow bars to cool for at least 30 minutes.

Once cooled, lift contents out of the pan using the parchment overhang, and transfer to a cutting board. Cut into bars, approximately 8 rows vertically and 3 rows horizontally. Serve bars at room temperature.Stored in an airtight container in the refrigerator, bars will keep one week.
Recipe adapted from: Bon Appetit Butterscotch Blondie Bars