Just in Time for the Weekend: Healthy Watermelon Mojitos
The best way I can describe these healthy watermelon Mojitos is that they are FRESH. Like, fresh picked fruit and herbs fresh. They scream summer, and want to celebrate with you and your friends this weekend.
I have a series love affair with watermelon. In the warm months, there is nothing that quenches my thirst and satisfies a sweet craving than this juicy, flavorful, bright melon. Plus, how can you not love a fruit that is bright pink and green? It even looks as good as it tastes. Let's rejoice in watermelon season for as long as possible.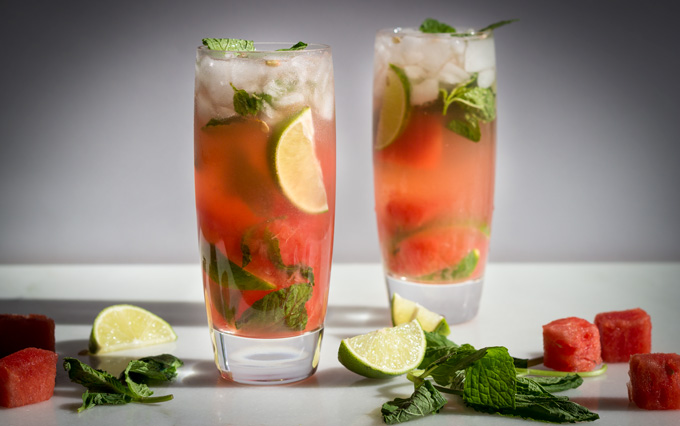 I also love a good Mojito. Mint is another one of my all time favorite things, so add it to a cocktail and there is no way I won't like it. But, and this may come as a shock to some, I despise sweet drinks. If a beverage is more than remotely sweet, no way am I drinking it. I like sour, spicy, savory, and a teeny tiny bit of sweetness, but you will not catch this girl drinking dessert in a glass. Unless we are talking about a milkshake, because that is a totally different story.
Also added to my ever-growing list of favorite things, are flavored sparking/seltzer waters. Again with the flavor thing, why have a plain water when there are 93 varieties available? The challenge became trying to find one that wasn't loaded with preservatives and sugar. Obviously, the sugary drink thing for me is a no-go.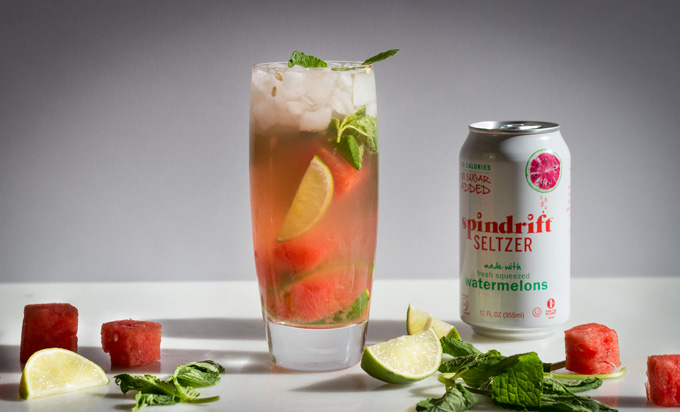 And then one day I discovered a gem at our neighborhood Trader Joe's. The unassuming package states it is a traditional seltzer with a small amount of fruit juice added, no sugar, no unnecessary stuff. Imagine my excitement, they have cucumber water! And raspberry lime! And wait for it, watermelon.
Clearly they designed this stuff for people like me, who want all the flavor without all the fuss. And this cocktail will tell you, it rocks. The Mojito just found its BFF, and its called Spindrift.
It is no surprise then, with two flavor-junkies on deck, we knew this was the final touch that would bring our healthy Mojito together. Something that adds a bit of fizz, highlights the main ingredients and let them shine. This seltzer fit the bill perfectly. Welcome to flavor town.
Be sure to follow Well Rooted on Instagram and tag your recipes with #theWRlife! You can also share photos on our Facebook page. Thanks a million for your support!
This post contains affiliate links. View our full disclosure here, or contact us.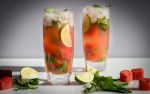 Healthy Watermelon Mojitos
A healthy refreshing version of the classic Mojito. The recipe can easily be multiplied to make a larger quantity for a crowd.
Ingredients
2

limes

cut into large wedges

1

bunch fresh mint

2

tablespoons

honey

or simple syrup

1/2

cup

fresh watermelon cubes

2

shots

or 3 ounces, white rum

12

ounces

unsweetened sparkling watermelon water

or fresh watermelon blended with water

Crushed ice

Extra lime and mint for garnish
Instructions
In the bottom of a tall glass,

muddle

1/2 a lime, 1 tablespoon honey, a small handful of fresh mint, and 1/4 cup watermelon cubes.

Add rum and seltzer, and stir to combine.

Add crushed ice, and top with extra lime and mint. Repeat for second drink.
Notes
If you can't find watermelon seltzer you can substitute with regular seltzer or club soda, and add extra watermelon.
Adjust the sweetener and alcohol to your taste.
*Note: I have no affiliation with Spindrift nor did they sponsor this post. I just love to share products that are clean, healthy, and all-around awesome. I know you will adore them, so go check out Spindrift at a store near you.