Leftover Meat Hash: A One Pot Meal In Under 30 Minutes
Ever had a cookout with plenty of guests, grilled a bunch of meat, and had lots of leftovers? Yep, we have been there. Most of the time we eat the leftovers as-is, sometimes we pawn them off on others, and sometimes we won't eat them unless they are recreated in a new dish. I mean, you can't possibility let all that goodness go to waste.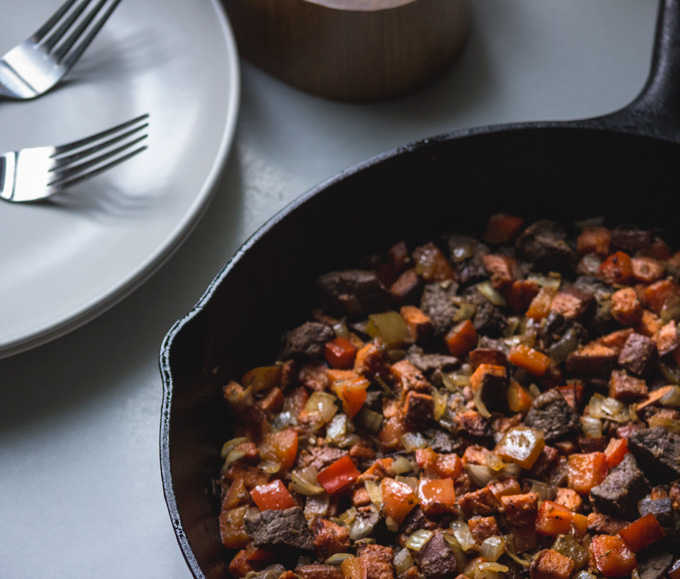 Then another struggle happens after you host a party. You prep for days, in the form of cleaning, organizing, and shopping, and spend the entire day-of in the kitchen and at the grill. And because you are exhausted afterwards, the last thing you want is to spend time making dinner the next day.
Your cure for these post-party-host-blues? You guessed it, leftovers.
Obviously, we are pretty much leftover obsessed. We highly encourage everyone to get on this bandwagon, simply because it will make your prep seriously more efficient.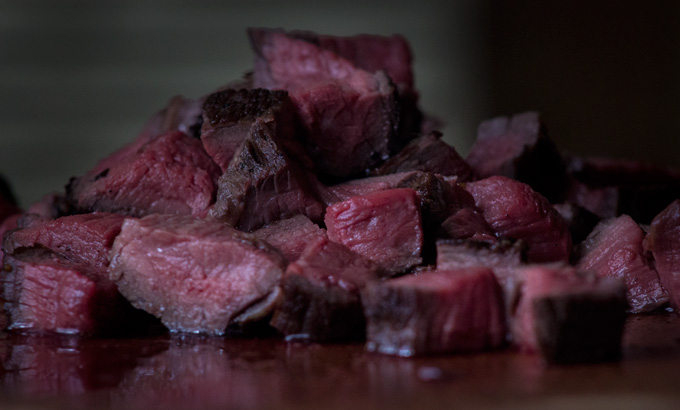 As with many of our recipe creations, this dish happened by accident. We had several pieces of steak and hamburger left after a recent party, and were curious what to do with them.
I had a variation of this hash often as a kid. It was a staple in our household, something flavorful and easy to throw together with what you had on hand. I recalled the key flavors were meat, onion, and smoke. Only a few more additions to incorporate some starch and amp up the flavor, and we had ourselves a complete dish.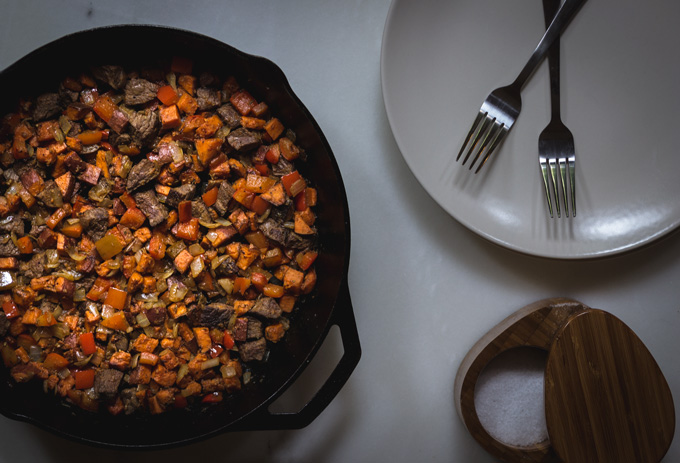 As you have surely noticed by now, we strive for loads of flavor in every dish. This one is no exception. Incorporating the smoky flavor from grilled meat, along with a generous helping of Liquid Smoke, and you have all the ingredients for a rich, savory, BBQ-esque meal.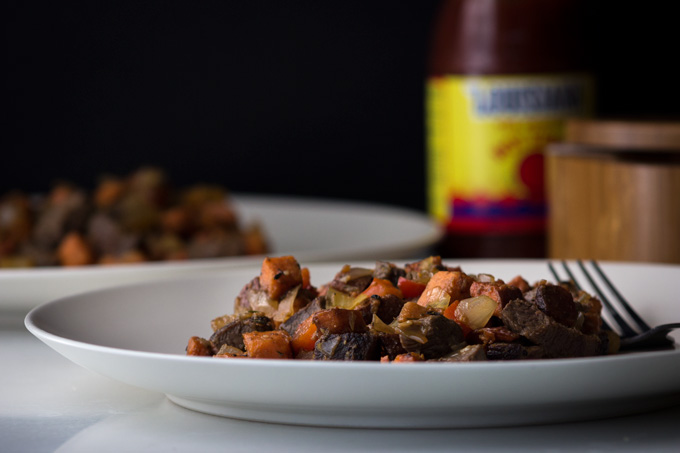 If you are not already using Liquid Smoke, add it to your shopping list. This little beauty is amazing in numerous dishes. Colgin and Wright's are both great options. Go for it friends, get your smoke on.
Be sure to follow Well Rooted on Instagram and tag your recipes with #theWRlife! You can also share photos on our Facebook page. Thanks a million for your support!
This post contains affiliate links. View our full disclosure here, or contact us.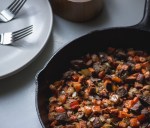 Leftover Meat Hash: One Pot & Under 30-minute Meal!
Instead of debating what to do with your leftover pieces of meat from a recent cookout, or worse yet letting them go to waste, throw them into this rustic hash. It all cooks in one pot and comes together in less than 30 minutes.
Ingredients
2

tablespoons

bacon fat

lard, or tallow

1-2

cups

leftover steak and/or hamburger

cubed (chicken or pork chops will also work)

1

large sweet potato

cut into small cubes

1

small yellow onion

chopped

1

red bell pepper

chopped

2

garlic cloves

minced

2

teaspoons

Worcestershire

1

teaspoon

Louisiana hot sauce

plus more to taste

1

teaspoon

fresh thyme

or 1/2 teaspoon dried

Salt and pepper
Instructions
Heat fat of choice in a large cast iron or similar pan over medium-high heat, and add sweet potatoes. Season with salt and pepper, and toss pieces to coat in fat.

Cook, stirring occasionally, until potatoes are browned and softened, about 10 minutes.

Push sweet potatoes to one side of the pan, and set this side of the pan slightly off the burner. Add onion and pepper in the open side of your pan, and cook until softened, another 5-6 minutes. Toss occasionally, and mix with potatoes halfway through if they are browning too quickly.

Reduce heat to medium. Add minced garlic, toss to combine all ingredients, and cook one minute longer.

Add meat pieces, Liquid Smoke, Worcestershire, hot sauce, thyme, and additional salt and pepper. Toss to coat, and cook another few minutes until warmed throughout and everything is coated. Serve with extra hot sauce on the side.
Notes
Piece together your meat based on what you have leftover. Steak and hamburger are our favorites, but chicken and pork work equally as well. Or combine several varieties.