Rustic Ratatouille: A One Pot Summer Meal
This dish is summer's bounty at its best. Tomatoes are at their peak, you can find eggplant and zucchini the size of your head, and fresh herbs are just begging to be added to every dish. With that in mind, let's take all the beautiful produce, and cook it into a rustic stew.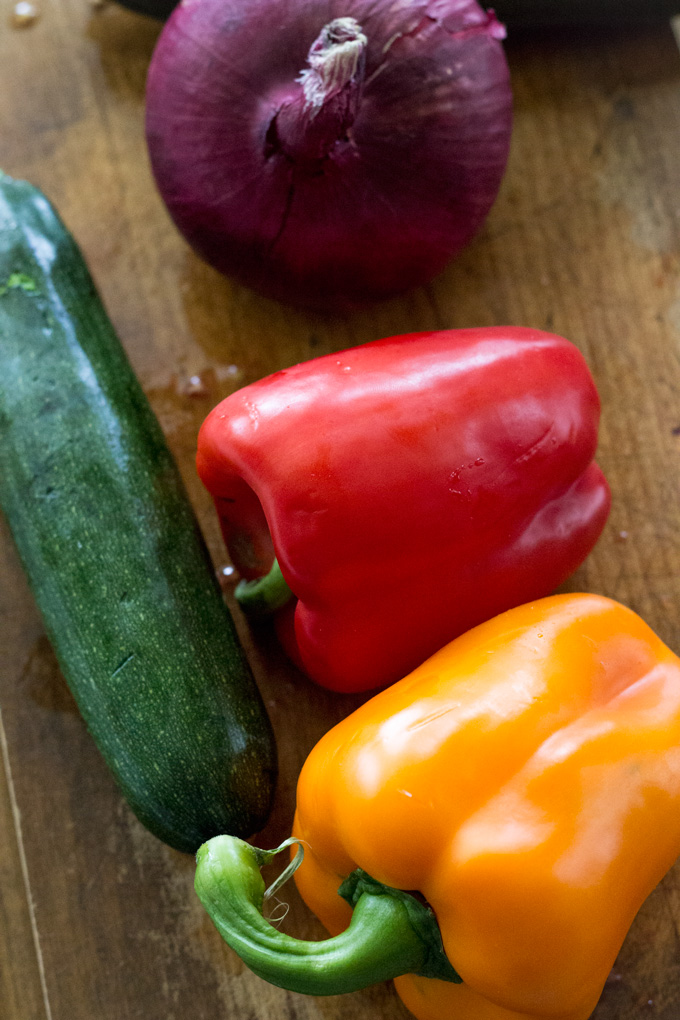 paleo, whole30, vegetarian
Picture a lazy weekend afternoon, basking in the glow from time spent outside in the warmth of the summer sun, and a wonderfully velvety, rich, bright, flavorful stew awaits you for dinner. It feels meaty and satisfying, yet actually, consists only of vegetables.
Don't fret carnivores, it's hard to tell meat is even missing. But if you can't live without it, grilled steak would make a wonderful accompaniment.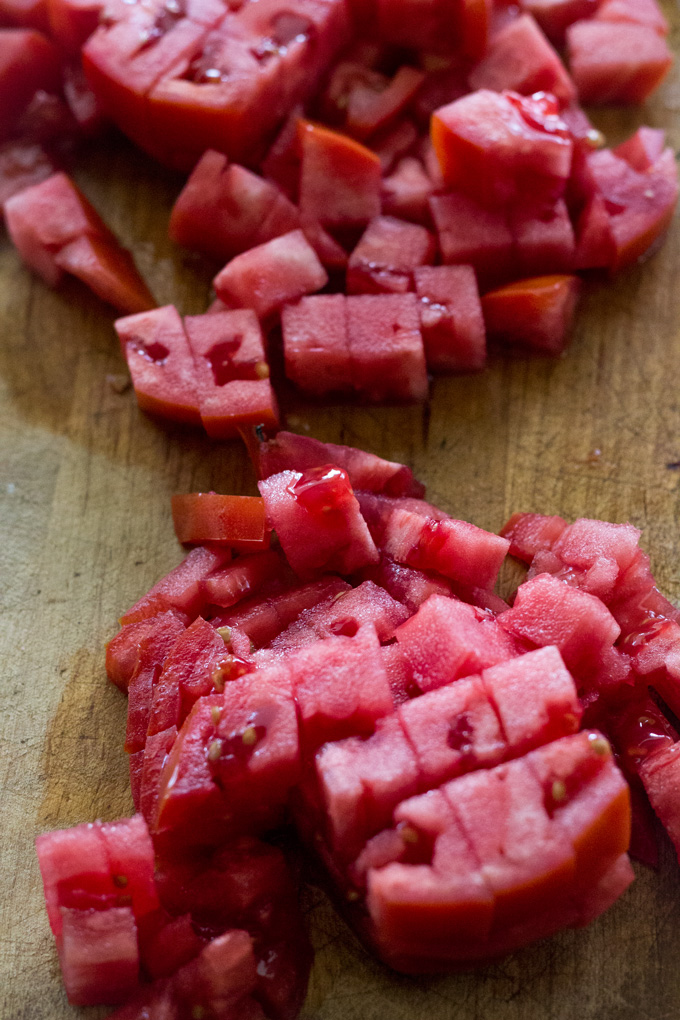 I always assumed ratatouille was far too difficult of a dish to master. First of all, it's a classic French meal, which seemed intimidating for an untrained home cook. And second, the only versions I had seen or heard of were incredibly detailed and complex.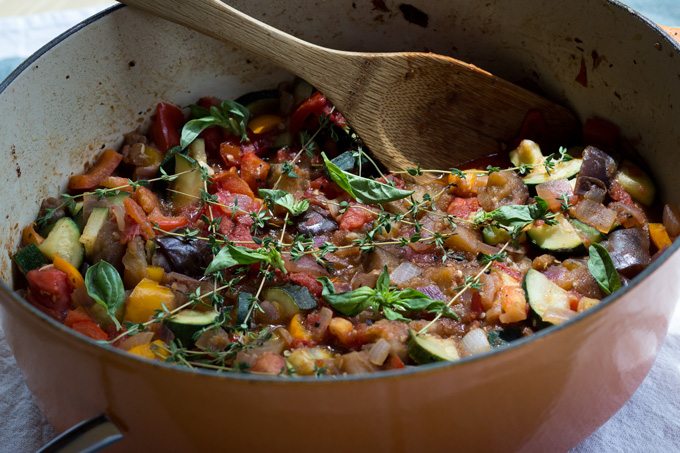 Then the animated Ratatouille movie came out and reintroduced the dish to the world. Seriously, didn't that movie make you fall in love with ratatouille and French cooking? Or at least, didn't you want to live in Paris, with a mouse best friend, and cook and eat all the things? I know I did.
Suddenly, the dish became approachable. It was fun, it appealed to our emotions, and everyone jumped on the bandwagon.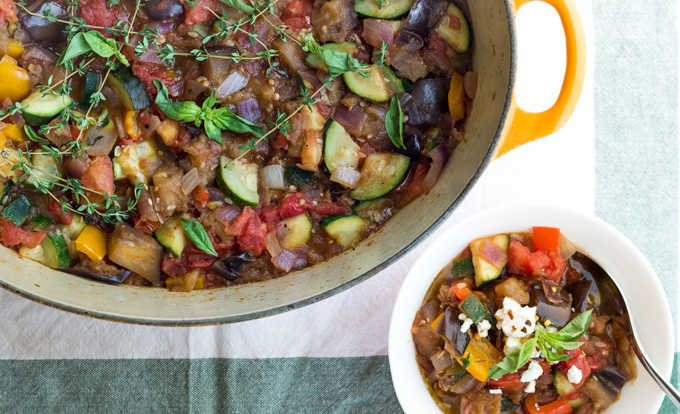 Let's be honest for a second, we can all be lazy cooks sometimes. And there's nothing wrong with that. If we're serving our family home cooked meals day after day, we don't need to pull out all the stops for every dish.
Sometimes we want a special meal without the formality. Which is why rustic dishes are perfect.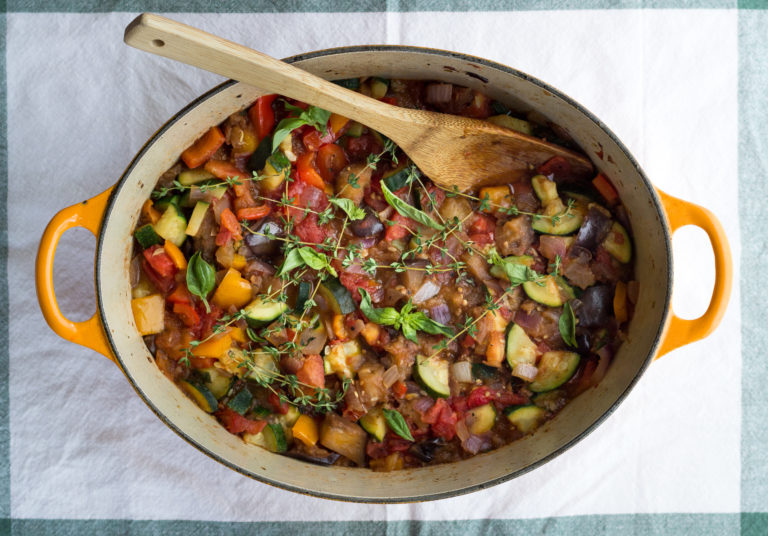 I encourage you to embrace that feeling. Foster it, roll with it, and enjoy it. That's what this recipe is all about.
Laid-back cooking allows you to focus on the flavor and quality of your ingredients. Save the fancy stuff for another time and place, preferably when someone else is cooking.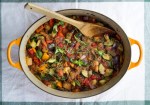 Rustic Ratatouille
A delicious one pot meal taking advantage of summer produce at its peak. Great served warm as a stew or cold as a tapenade. Paleo, Vegetarian, and Grain-free to boot!
Ingredients
1

large or 2 small eggplants

3

large tomatoes

4

medium zucchini

1

medium red bell pepper

1

medium orange bell pepper

1

medium red onion

4

tablespoons

unsalted butter or ghee

separated

3

garlic cloves

minced

1/4

cup

red wine

or vegetable stock

2

small bay leaves

4

fresh thyme sprigs

or 1/2 teaspoon dried thyme

Salt and pepper

1/3

cup

chiffonade fresh basil leaves

plus extra for serving

Olive oil

goat cheese crumbles, and red pepper flakes, for toppings
Instructions
Cut eggplant into 1-inch cubes, place in a colander over the sink or a bowl, and salt liberally. Let the eggplant drain while you prep the other vegetables.

Cut tomatoes and zucchini into 1-inch cubes/chunks, and set aside in separate bowls.

Roughly chop peppers and onions into 1-inch pieces and set aside in a separate bowl.

In a Dutch oven or large stainless steel pot, melt 2 tablespoons butter or ghee over medium-high heat. Add zucchini and season liberally with salt and pepper. Sauté until it begins to soften and brown, about 5 minutes, stirring occasionally. Remove from pot and place in a large bowl.

Add peppers and onions to the pan, season liberally with salt and pepper, and sauté until softened, another 8-10 minutes. While peppers and onions are cooking, rinse eggplant in cool water and set aside to drain once more.

Add garlic to peppers and onions, and cook one additional minute, stirring constantly. Remove and add mixture to the large bowl with zucchini.

By now the bottom of your pan may have developed browned bits. If bits begin to burn, de-glaze the pan with a few splashes of red wine or stock in between cooking vegetables. Just before adding eggplant to the dish, squeeze pieces gently between a kitchen towel to remove excess moisture.

Melt 2 more tablespoons butter or ghee, add eggplant, and season with salt and pepper. Sauté until beginning to soften and brown, 5-6 minutes, stirring often. Add tomatoes and wine or stock, scraping up brown bits on the bottom of the pan.

Return all vegetables to pan, along with bay leaves, thyme, and additional salt and pepper, and toss to combine. Bring mixture to a boil, then cover and reduce heat to low. Simmer for at least 30 minutes, or up to 2 hours, until all vegetables are softened, and the mixture is reduced. The longer the vegetables are cooked, the more flavor they will yield, and the softer and smoother the stew will become. Once removed from heat, take out bay leaves and thyme sprigs, and stir in basil.

Spoon into bowls and top with a generous drizzle of good quality olive oil, basil leaves, goat cheese crumbles, and red pepper flakes.

The stew tastes best the next day. One of our favorite ways to enjoy it is eaten cold, with a smear of goat cheese on grilled crusty bread.
Notes
One of the best features of this recipe is that it is rustic, the lazy man's ratatouille, if you will. Don't get hung up on perfectly cutting your vegetables, everything gets cooked down so they don't need to look pretty. Do try and cut everything relatively the same size so it all cooks evenly.
Despite what traditional recipes will lead you to believe, you can sub out the vegetables. Yellow squash works just as well as zucchini, white onion in place of the red, and even adding mushrooms is a nice touch.
This is also a great dish to batch cook, as the recipe can be easily doubled. The cooked stew will last 5-7 days in the refrigerator, and also freezes very well.