Safer Cleaning with Only 4 Ingredients + Spray Cleaner Recipe
It is possible to clean your entire home with only a few affordable and readily available ingredients. Here we will outline the heavy hitter products that do the work of many, and don't get enough credit. Plus, where to use them, and how to replace your existing products. This is Safer Cleaning with Only 4 Ingredients, and a bonus recipe for an All-Purpose Spray Cleaner.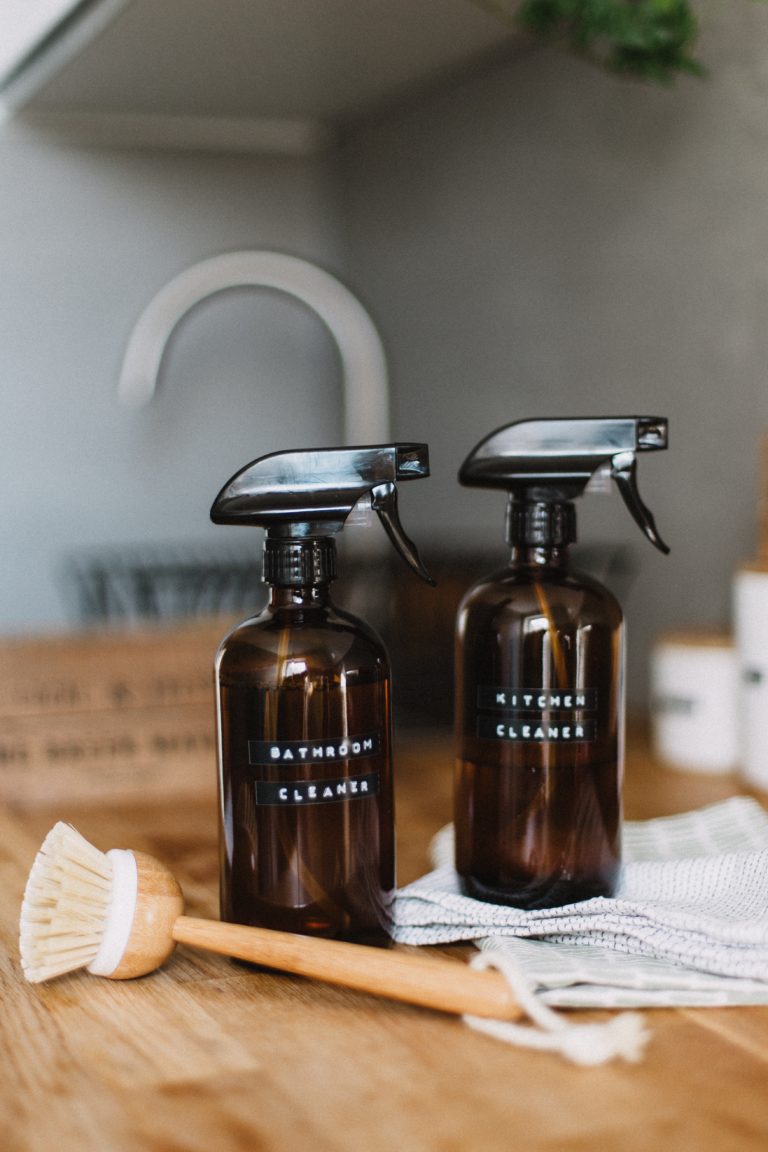 Traditional cleaning products are full of nasty chemicals. When we spray and inhale the fumes, or get them on our skin, we are absorbing all these toxins. Instead of risking our and our family's health, we can easily replace all these harsh products with just a few simple and affordable ingredients that you likely already have in your home.
Turn to vinegar for all your tough jobs. Think deodorizing and deep cleaning. It is great for removing stains and odors, as well as cleaning tile and countertops. Just don't use this option on marble or granite, as it a bit too acidic for these materials.
Here are some of our favorite uses for vinegar:
Laundry aid. Add a splash to your washing machine to help remove any smells from laundry. Soak grease or oil stains in diluted vinegar to help break up the stain. Scrubbing with baking soda first can also help loosen set-in stains.
Floor cleaner. Dilute full strength vinegar with hot water in a 50-50 mixture, and you have yourself a simple effective wood floor cleaner. Add citrus or eucalyptus essential oil for a pleasant aroma and extra cleaning power.
Appliance cleaner. We have some older appliances that easily build up with mold and grime. For a dirty dishwasher, we pour straight vinegar and hydrogen peroxide on the stains, let is soak, and also fill a small cup full of vinegar and set it on the top rack. Then we run a heavy wash cycle and come out with a sparkly clean appliance.
DON'T FORGET TO CHECK OUT THE ALL PURPOSE CLEANING VINEGAR RECIPE BELOW!
Think of baking soda as nature's scrubber. We grew up on Bar Keeper's Friend, but thankfully we found baking soda to take the place of that option. It also happens to be extremely affordable and effective. Here are some of our favorite uses for baking soda:
Drain and disposal cleaner. As an alternative to those harsh poisonous drain cleaners, instead turn to baking soda and vinegar. Add 1/2 cup baking soda into your drain or disposal, then add 1 cup distilled white vinegar. Let sit for 10 minutes before running a heavy stream of hot water, and running your disposal if using.
Kitchen and bathroom scrubber. There are numerous surfaces in the kitchen and bathroom that benefit from a little natural scrubbing power. Sprinkle baking soda on countertops, sinks, microwave ovens, range ovens, and bathroom tile, then use a wet sponge to scrub out stains, streaks, and marks. Also add a small amount of baking soda to help scrub grease out of your pots and pans.
Deodorize and absorb nasty smells. There's good reason to keep baking soda in your refrigerator at all times, it works. Also use an open box of baking soda to absorb pet odors, and the gas, grease, and gardening smells from your garage. Sprinkle soda on musty furniture, carpet, or other upholstery and let sit for 20 minutes before vacuuming up the powder.
3. LIQUID CASTILE SOAP + SAL SUDS
Last but not least, Dr Bronner's soap and Sal Suds are the two fantastic all-purpose cleaners that you can use in every room of your home. These are actually both concentrated liquids that you will dilute and use all over the house. You can wash everything from wood, to walls, to floors with these staples. We also love them for the following:
Simple DIY foaming hand soap. This is one of the best and simplest natural cleaning hacks. Use an empty foaming hand soap container you have already at home, or a reusable soap pump. Add about 2 inches of Dr Bronner's soap, in any scent, and top with water. Shake to combine and enjoy your simple and effective foaming hand soap.
Floor and carpet cleaner. If you aren't a vinegar fan, use about a teaspoon of Sal Suds added to two quarts of hot water to clean floors. Either Castile soap or Sal Suds (diluted) can be added to a carpet cleaning machine, or used to spot treat tough carpet stains.
Laundry soap. Both Castile soap and Sal Suds make a great all natural laundry soaps. I use a few squirts of Castile soap in a full load of laundry, plus add about a 1/4 cup each of washing soda and vinegar for towels, workout clothes, and other well-soiled items. A couple teaspoons of Sal Suds added to a spray bottle of water makes an effective stain remover.
This is the natural way to solve all your bleaching needs. Conventional bleach is very dangerous and highly toxic, but this option is totally safe. Opt for food grade hydrogen peroxide and you can count on this ingredient to provide bright sparkly clean all over the house. We love HP for some of these uses:
Brighter whites. Just as you would use bleach in your laundry, use hydrogen peroxide instead. Be sure and test fabrics in advance, and dilute the concentrate with water. Think of this as nature's Oxy Clean.
Removing mold, scum, and build up. Hydrogen peroxide is great for removing mold and scum from tile and grout, as well as build up on glass and other surfaces. For extra scrubbing power, much like a natural version of Comet, add baking soda and vinegar to the mixture.
Make your pots and pans like new. One of my personal favorites, you can actually get all that gunk off of your cookie/baking sheet pans. Drizzle the bottom of the pan with hydrogen peroxide, then sprinkle baking soda on top. Watch the magic fizz break down all those stains without any scrubbing.
There are literally dozens of uses and options for DIY non-toxic cleaning. Our Safer Cleaning with Only 4 Ingredients include a few ideas to get you started. We would love to hear from you, what are your favorite natural cleaning tips and tricks?
Print
All-Purpose Spray Cleaner
This simple cleaner is an all star. Use to clean nearly every surface in your home, avoiding marble or granite. The lemon adds a nice scent and additional strength from the Vitamin C. Thyme is a natural antiseptic and antibacterial, which makes this great for kitchens, bathrooms, and dirty messes.
Instructions
Slice lemons in quarters and add to large mason jar. Sprinkle thyme on top, then cover with vinegar.

Let mixture sit 1-2 weeks, shaking every few days.

Strain lemon and thyme, and add vinegar concentrate to a clean mason jar.

Add about a half cup of the concentrate to a glass spray bottle and fill the rest of the bottle with water. Use this mixture to clean mirrors, counters (not marble or granite), and bathrooms. Store remaining concentrate in a cool dry place, or in the refrigerator for several months.