Wellness Roundup: 15 Most Amazing Benefits of Coconut Oil
Coconut oil is a heavy hitter, with incredible uses in cooking and personal care. Those who already know and love the special oil have their favorites uses. And for those who are new to coconut oil, you will quickly learn it can be your go-to staple. These 15 Most Amazing Benefits of Coconut Oil are our favorite uses and how we use it most often. We are confident you will love them too.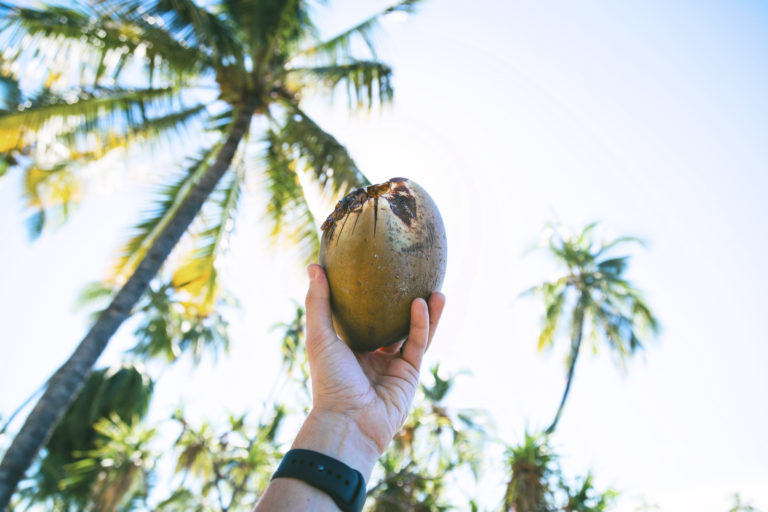 Starting with an obvious one, it is worth nothing why it is such a great cooking oil. It has a moderately high smoke point making it a great option for medium heat cooking.
Use it to roast vegetables, soften or sweat vegetables on the stove, and brown meat.
Coconut oil can replace vegetable oil in any baking mix. Not only does it have more nutritional value, but it also lacks the negative aspects of refined oils.
The oil works great as a binder in cookies, brownies, and bread.
3. SUBSTITUTE FOR COFFEE CREAMER
If you follow a Paleo or Vegan lifestyle, and/or aren't consuming dairy, you are likely always on the lookout for a quality creamer replacement. There are many prepackaged coconut creamers available on the market, but you can also keep it simple and add a tablespoon of coconut oil to your coffee.
Add any flavorings of your choice, cinnamon and vanilla extract, for example, a tablespoon of oil, and blend on high until combined. What results in a frothy, almost latte-like morning beverage.
4. NATURAL ENERGY BOOSTER
Coconut oil contains MCT's, or Medium Chain Triglycerides, which are unique fats. Our body immediately metabolizes and use these fats for fuel, instead of storing them.
Which is why coconut oil makes such an incredible energy booster, and why many like adding it to their morning coffee.
5. PRE/POST-WORKOUT REFUEL
Similar to the above, the boost of energy we receive from coconut oil makes it great for pre-workout fuel. Additionally, you can replenish your body post workout by supplying it with the same healthy fats and nutrients.
We love our Easy No Bake Meyer Lemons Cheesecakes for pre/post workout snacks.
Coconut oil is comprised of more than 50% lauric acid, a fatty acid not found in many substances. The only other source in this similar concentration is breast milk. Lauric acid is essential to fighting off infection.
This potent fatty acid can actually fight off pathogens including bacteria, fungus, and even viruses.
Because of coconut oil's unique fat content, it is simple for the body to break down and digest. It is also anti-inflammatory, fights candida overgrowth, and can fight infections in the digestive track. It also supports healthy liver function and can aid in the detoxification process.
Those who suffer from digestive disorders, such as IBS and Chron's, find relief from incorporating coconut oil into their diet.
A method that has been around for centuries and used as a natural remedy, oil pulling has become a popular mainstream at-home treatment. It also has scientific backing to improve your oral health.
The concept is simple, upon waking you use a couple teaspoons of softened oil to swish and swirl around your mouth for about an hour. The result is toxins in your mouth adhere to the fats in the coconut oil and are then released once you spit the oil out. See this comprehensive guide for more detail.
Many swear by this method for natural gum and teeth health and even teeth whitening.
Going back yet again to coconut oil's fat content, it makes a wonderful all natural hand and body lotion. It is especially useful for rough, scaly, overly dry patches like elbows, knees, hands and feet.
I use coconut oil nightly as a hand moisturizer, taking about a dime size amount and softening between my hands, then rubbing it in for about 30 seconds. It feels oily at first but absorbs quickly.
Along the same lines as a hand and body lotion, coconut oil makes a wonderful cuticle oil. Apply at night for softer, healthier cuticles by morning, or use while giving yourself an at-home manicure.
Coconut oil is my favorite eye makeup remover. Many products found at the drugstore contain preservatives, fillers, and hormone disrupting chemicals, and are unsafe to use on your eyes. Use the tips below to see the benefits of this inexpensive and simple makeup remover at home.
Keep a small container filled with coconut oil in your bathroom, which can be used for all the above beauty suggestions. Gather about a half a dime-size amount, and place it on your eyelid. Very gently dab around your eye area. The oil melts as you rub, and it takes about 20 seconds to loosen all makeup. Finally, take a soft kleenex or cotton ball, and dab the makeup off our eye. Again be careful not to rub too hard, so you don't damage your delicate eye area.
I like to keep the leftover oil residue around my eyes as it acts an extra moisturizer, however, you can also wash off with your favorite face soap.
13. HAIR & SCALP CONDITIONER
An excellent at-home deep conditioner, coconut oil can be used on wet or dry hair. It contains Vitamins K and E, both of which can treat dry hair, dandruff, and itchy scalp.
As a scalp treatment, warm about a tablespoon of oil in your hands, and massage into your scalp. Let sit for at least 30 minutes, then shampoo and condition as usual.
As a hair conditioner, use the same process as noted above, and apply from roots to ends. Let is sit for an hour if you can (I like to cook or clean while it sets), then shampoo and condition as usual.
Be warned that the oil likes to stick to your hair, so you may have to use a little extra shampoo to get the excess oil out.
Looking to add shine, reduce frizz, and smooth hair? A small amount of coconut oil is perfect as a styling product.
Start with a very small amount, dipping your thumbnail in your container, and warm between your palms. Apply to damp or dry hair, focusing on the ends. Let it absorb for a few minutes, then comb or brush through.
I especially like using coconut oil as a smoother when I wear my hair wavy, as it defines the waves and tames frizz, and when I straighten my hair. It adds immense shine and enhances silky smooth locks.
15. SCAR & STRETCH MARK TREATMENT
The vitamins and fats in coconut oil are great for so many internal and external uses, even treating scars and stretch marks. Instead of using a strong chemical scar treatment, reach for your coconut oil once again.
I have been treating two semi-deep scars with coconut oil for the last few months, and am noticing a marked improvement to each. The spots heal faster and the scar itself is diminished.
WHAT ARE YOUR FAVORITE USES FOR COCONUT OIL? LET US KNOW IN THE COMMENTS BELOW.