Wellness Roundup: Hygge For Winter Healing
Now that we are in the heart of winter, and past the holidays, we are stuck in a waiting period. Many want to fast forward to warmer days and bypass winter entirely. While there is something to be said of avoiding the challenging parts of winter, there are also plenty of things to enjoy about this season. We can actually use these months to heal. To rest, relax, and rejuvenate. We will explore these feelings further, and how they tie into our healthy lifestyle, in this Wellness Roundup: Hygge For Winter Healing.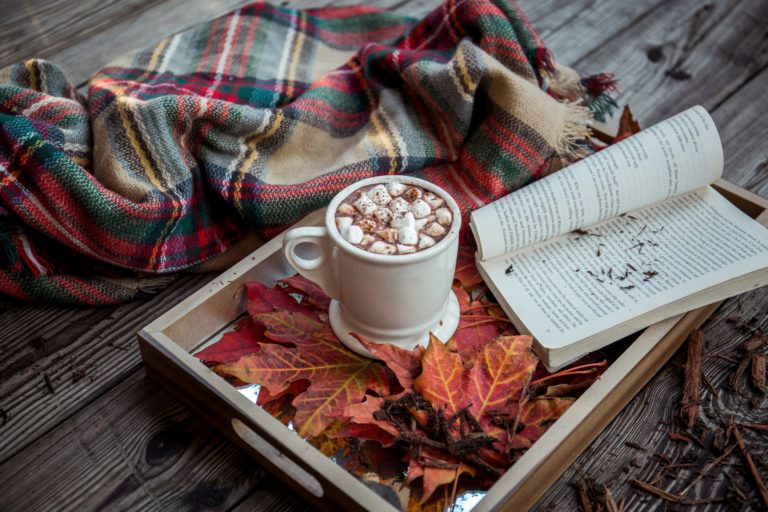 WELLNESS ROUNDUP: HYGGE FOR WINTER HEALING
For the last several years, the Danish concept of Hygge (pronounced hoo-gah) has swept the world. Described as a feeling of cozy or intimacy, this concept is a great reminder of how to live a happier life. It reminds us to experience simple pleasures. It also teaches us to be mindful and gentle with ourselves. To live in the moment and enjoy what's in front of us.
But what does this have to do with our health, you may ask? Well, everything. Embracing Hygge concepts can help keep us grounded in what may otherwise be a difficult season. Not only that, but we can literally use the benefits to heal. Hygge has been shown to relieve stress and anxiety, and promote better sleep and social interaction.
Let's dig a bit deeper and see how we can incorporate some of these concepts into our routines.
We always need rest, and especially this time of year. The holiday season doesn't stop on January 1st. Any major life event lasts more than just one day. And if you struggle with health issues it takes even longer to recover.
We have to give our mind and body a break after such an experience, and allow it to heal. Hygge can help get us into that mental and physical space of rest and rejuvenation.
Listen to your body. If you feel tired, make sleep and rest a priority. Learn to enjoy just being, instead of always doing. The more you embrace resting, the more you will see how much your body craves it.
Do things that soothe your soul. Take part in activities and experiences that you really love. This could be snuggling up at home, taking a warm bath, connecting with friends, or practicing winter sports. Whatever brings you joy.
Connect with those you love. Now is a great time of year to really connect with people. Have intimate gatherings, plenty of date nights, and spent quality time with family. Meaningful connections improve our health and longevity.
The start of a new year is always a good time to reevaluate priorities and initiate change. Especially if change will help you simplify and practice Hygge in your life.
Declutter and practice minimalism. Being cozy doesn't mean being cluttered. In fact, clutter can actually lead to anxiety. The less stuff you have to be distracted by, the more you can focus on what really matters.
Reevaluate priorities. Be honest with yourself. Are you satisfied with your life and the direction it is taking? If not, consider making some changes.
Break the busy addiction. We tend to feed on the adrenaline and routine of busyness. The more we attempt to manage, the less we can enjoy life. Consider clearing your calendar if things are getting hectic. Watch for stress and practice self-care as often as possible.
CREATE A HYGGE SPACE AT HOME
Creating a Hygge environment at home is a simple and effective way to embrace the concept. This will help you rest and heal all winter long.
Form a cozy place. Designate your favorite comfy spot at home as your Hygge corner. Fill it with fluffy blankets, soft pillows, and anything that helps you feel relaxed. Instead of generic home decor, reach for items that hold personal value to you. These will remind you of fond memories and fill your comfy space with happiness.
Dim the lights. Warm dim lighting is essential to relaxation. Bright light stimulates, while ambient light reduces stress and activates the relaxation response.
Bring nature in. As we spend more time indoors, we miss a lot of nature's benefits. Fresh air is essential to our health, yet we aren't getting enough in the colder months. Thankfully many plants can act as filters, and even increase oxygen levels.
SIMPLE WAYS TO ENJOY WINTER HYGGE
Here are some ways you can enjoy a cozy winter in your Hygge space:
Long lazy weekend mornings. Start the day slowly. Spend a few hours in your PJs, make a nice comforting breakfast, and give yourself free time to do something you enjoy. Setting this intention first thing helps keep your mind and body calm all day.
Warm beverages and a warmer fire. Hot tea, coffee, cocoa, or whatever drink you love, drink it often. Light a fire to not only keep you warm and set the mood, but to induce calm. Both are a big warm hug on a cold day. Don't have a fireplace? Use your TV or device to play a video of a fire, and light some candles.
Get outside to enjoy the elements. Winter can be annoying to deal with, but it's also really fun. Play in the snow with your kids, take up an outdoor sport, or go for a walk. Learning to enjoy what we have allows us to truly live.
Now we would love to hear from you. Are you a fan of Hygge? What are your favorite ways to enjoy winter?