Time Savings Tips: Developing the Ultimate Grocery List
We all struggle with the amount of time spent grocery shopping. It can take hours out of your weekend. But what if you could save precious time, and simplify the experience in the process? It is possible my friends. The key is to be armed with a good list.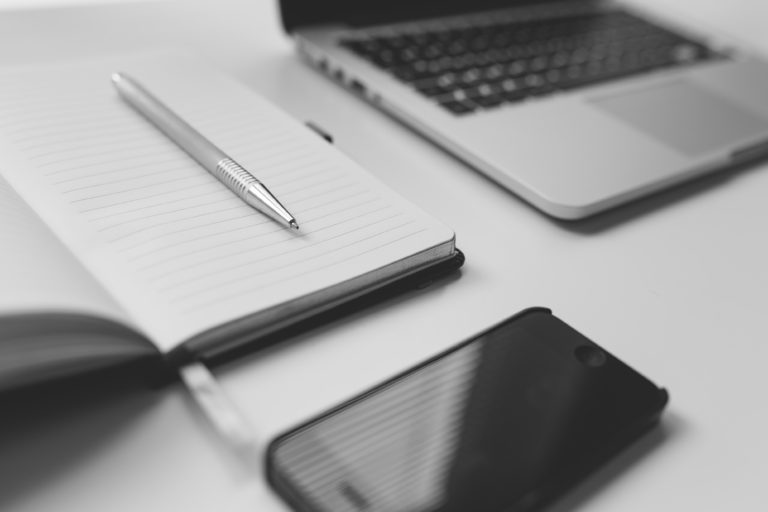 I am sure everyone has and uses a grocery list, and are wondering honestly how it can be improved. I am about to show you how a well-organized list can save you precious time by creating shopping efficiencies. No unique skills or tools required, just a few minutes spent mapping out your plan. Give me 10 minutes, and in turn you will gain at least 30 minutes saved while shopping. Promise.
Sure, there are specialty apps and fancy list builders, but none of that is needed here.  Instead, I suggest one of two methods. The Notes tool in your phone, or an Excel spreadsheet.
If you don't like to carry around printed paper, and prefer to do everything digitally, go for the Notes version.
And if you prefer to physically check off items on a paper list, go for the spreadsheet version.
Whichever version you chose, incorporate the tips below to maximize your time.
Organizing your list by department automatically creates a roadmap for your shopping experience. Instead of zigzagging across a store, bouncing back and forth from one end to the other, you will hit one department at a time and knock out items section by section.
More on this next week, when we dig into how to navigate your grocery store.
Until you get used to this process, it may be easiest to write out your entire list, then sort by department. This is where the spreadsheet method comes in handy, as you can use the sort function. (See example below). Or if you feel comfortable already, begin drawing up your list using the following categories:

Produce
Meat
Dairy
Frozen
Pantry/dry goods: this includes your core staples such as flour, spices, sauce, sweetener, stock, etc.
Snacks: this includes desserts, chips, trail mix, etc.
Beverages
Other: this includes any miscellaneous items such as pre-packaged foods.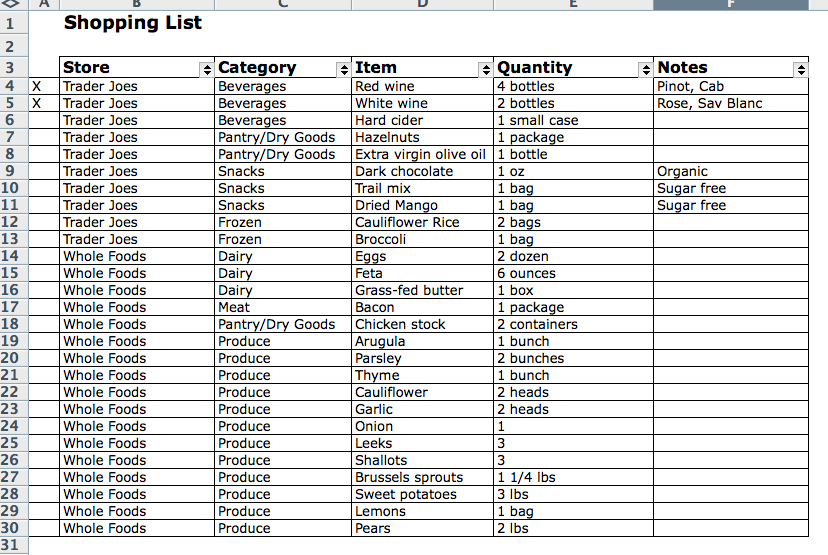 If you're like me, and sometimes visit 3 separate stores on any given day, this one will really surprise you. This final small step forces you to plan in advance, thus avoiding convenience shopping (purchasing everything at one store) and last-minute unplanned stops.
Alternatively, if you have a small list and are only heading to 1 store, skip this step.
Think about which items you typically purchase from which store, and create a sub-list for each location.
For instance, I purchase produce and dairy at Whole Foods, so my master list has a sub-section for this store and with these categories. At Trader Joes I purchase pantry/dry goods and beverages, so there is another sub-section with this store and these categories.
And that's it folks. Three simple steps to keep you organized and save you time shopping. Get ready to be dazzled, it is amazing how efficient and stress-free your shopping experience is about to become.