Happiness In a Glass: Strawberry Basil Moscow Mules
Summer may be technically coming to a close, (waahhhh) but that doesn't mean we have to accept it yet. Or give up our summer staples, including drinks on the patio and all the berries. We cannot get enough berries, so naturally we are putting them in everything. I know you're with me, which is why we're toasting to summer, in the form of these Strawberry Basil Moscow Mules.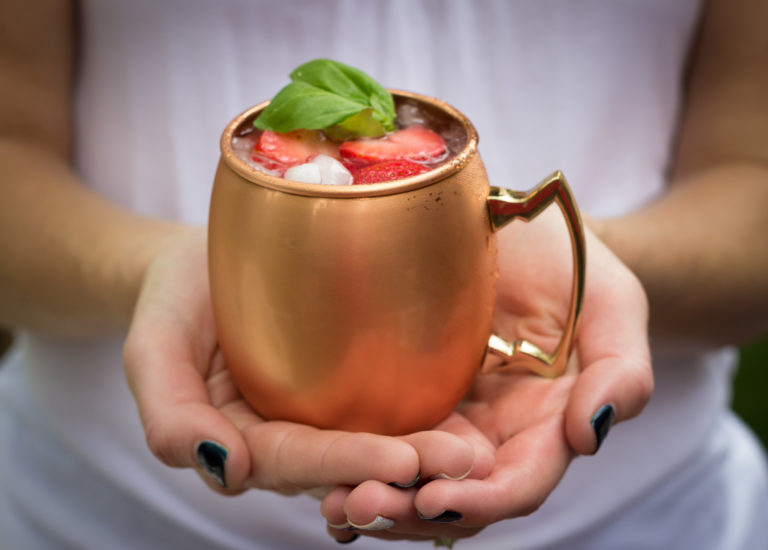 Before we start that toast, let's address something. It's fairly early on a Monday and I'm sharing a cocktail recipe with you. If this isn't an indication of how hectic (nay stressful) things have been for us lately, then I don't know what is. See also, seeking solace in a glass.
In my defense, said glass is ice-cold and filled with pretty seasonal goodness. Does this make it any better? Sure it does. Now we can proceed to enjoy these cute cups of magic.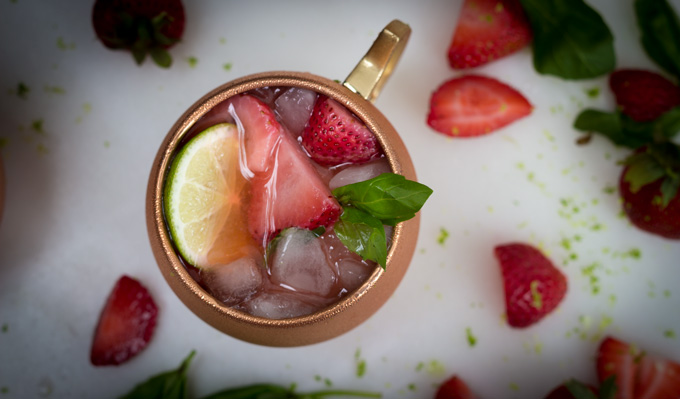 It is no secret I like, or more aptly, love, ginger in my beverages. Sidebar – how many things have I claimed my love of thus far? Too many in only a few short months, I am sure. I can't help it, food obsessed means you get overly excited about everything.
We are much like our sweet little nieces in this regard. When they like something, they want it all the time. In other words, as often as possible until their parents nearly lose their minds, or until they move on to the next thing. You know what though? We can identify with this feeling. When something is good it begs to be celebrated.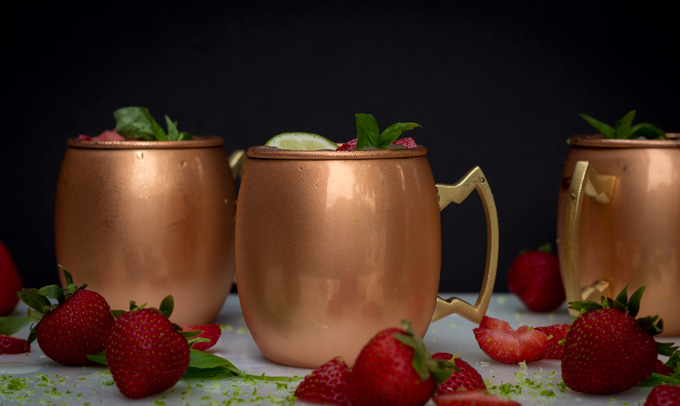 We first discovered the heavenly cocktail combo of strawberry and basil in margarita form. And you better believe we indulged in these every week for an entire summer.
But because we tend to overdo things much like a toddler, we needed something new this year. So we set out to create a replacement, one that is a bit lighter and even more refreshing.
This leads us to Moscow Mules. They had a comeback recently, and are available everywhere. It's no surprise either, with being served in shiny adorable copper mugs. Not many can resist this temptation (including yours truly). The problem is, most versions are seriously lacking in the flavor department. Hence why we decided to take this issue into our own hands and fine-tune the perfect combination.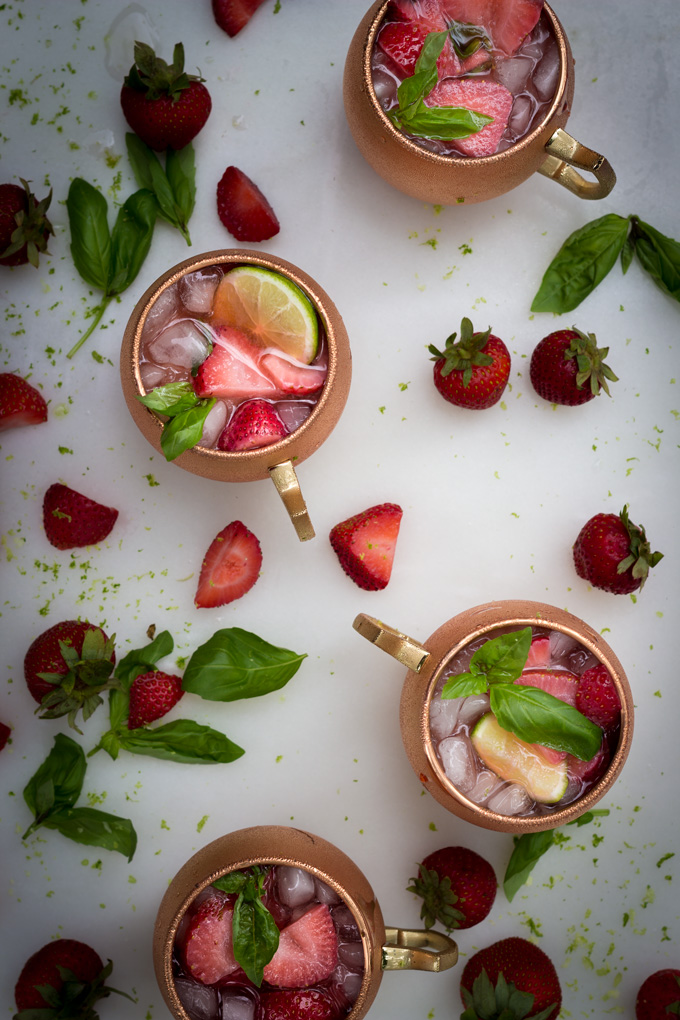 The key to a good mule is a few simple components: the freshest of ingredients, (leave those bottled mixes for someone else) crushed ice to quickly cool everything down, and infused vodka for a sugar-free sweet boost.
There you have it folks, I justified drinking this cocktail today, on a Monday nonetheless. You can't claim to have a case of the Monday's after sipping on one of these beauties.

Strawberry Basil Moscow Mules
A flavor-forward sweet and spicy summertime cocktail perfect for your weekend festivities.
Ingredients
2

cups

vodka

1/4

cup

fresh lime juice

2

cups

sliced strawberries

plus extra for garnish

1/2

cup

packed basil leaves

plus extra for garnish

2

cans/bottles ginger beer
Instructions
Add vodka, lime juice, strawberries, and basil to a pitcher and stir to combine. Then, chill in the refrigerator at least 4 hours, or overnight. Stir contents every so often, and again once it finishes marinating.

Fill copper mugs or rocks glasses with crushed iced. Add 1/3 cup vodka mixture and top with ginger beer until full. Squeeze a couple extra lime slices in each glass, and garnish with extra strawberry slices and basil leaves. Serve immediately.
Notes
The recipe can be easily multiplied to serve a crowd. Trust us, one batch goes quick!
To make a sugar free version, sub natural seltzer water, club soda, or unsweetened ginger ale for the ginger beer.