I am feeling some major post-holiday-weekend-blues. I realize I am not alone here, everyone I have talked to since Tuesday echoed the same thought. So instead of getting stuck in this sad state, I am looking towards the upcoming weekend, and anticipating a Ginger Thyme Margarita.
What did everyone do for the holiday weekend? We had incredible weather in the Chicago area, which wasn't expected, but such a pleasant surprise. We soaked up the sun, grilled out several times, and indulged in our fair share of summertime adult beverages. Which of course got us craving even more summertime drinks, and dreaming up all sorts of crazy concoctions.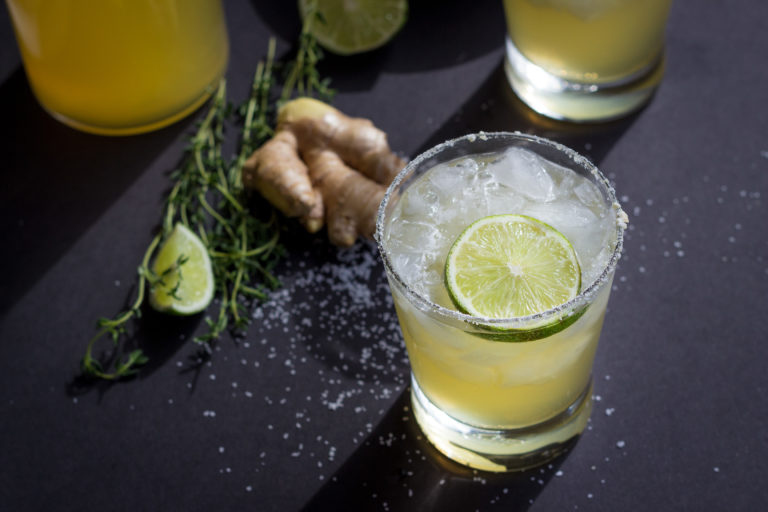 You can never go wrong with a margarita, it's a no brainer. Though I do get bored with the traditional version, because why would I drink the same thing over and over when there are so many options available! Plus, craft cocktails have really made a comeback. Every city I visit is having a cocktail revolution. Bartenders are the new food stars, each $15 drink includes 10 ingredients, several of which I cannot pronounce, and the underground speakeasy bars are always packed. I dig these establishments, they have such a cool vibe. Or maybe I just feel like a cool kid being there, but either way, I am all about this trend.
I am not one for sweet cocktails though. Well at least not overly sweet. I do love fruity cocktails, but they have to include some spice or salt to balance the sweetness. And even then I usually only have one before I switch to something else. Don't get me wrong, these quintessential drinks have a place in our home, especially at parties. But there is something about a savory drink that really sets it apart.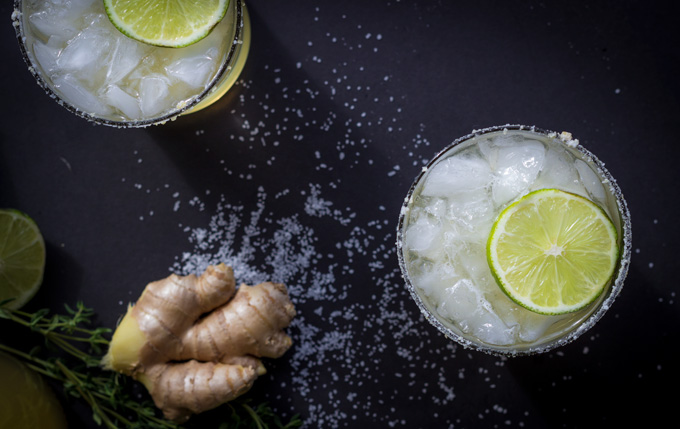 For our margarita twist, we incorporated two of our favorite savory elements. Fresh ginger and thyme come together to cut the sweetness of the syrup, and make for a unique combination. Don't be afraid of what may sound like an odd combo, and don't confuse unique for unexciting. Get out of your comfortable margarita zone and try something new. I dare you.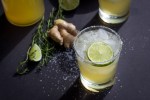 Ginger Thyme Margaritas
A savory spin on the classic margarita
Ingredients
Margaritas
1

tablespoon

ginger salt

1

tablespoon

ginger thyme simple syrup

or more if you prefer sweeter drinks, recipe follows

4

ounces

freshly squeezed lime juice

4

ounces

shots reposado tequila

Crushed ice

Lime slices

fresh grated ginger, and thyme sprigs for garnish
Ginger thyme simple syrup
1

cup

white sugar

1

cup

water

2

thyme sprigs

2

inch

knob of fresh ginger

peeled
Ginger salt
1

tablespoon

candied ginger

1

tablespoon

kosher salt
Instructions
Margaritas
Run a lime wedge over the edge of each glass, and rub the glass edge in the ginger salt mixture.

Add all liquids to a cocktail shaker and shake vigorously until combined.

Strain into two glasses and top with lime slices, grated ginger, and thyme sprigs.
Ginger thyme simple syrup
Place all ingredients in a small sauce pan and heat over medium. Cook mixture, stirring frequently, until sugar is dissolved.

Remove from heat and let cool to room temperature.

Strain through metal mesh sieve into a glass jar and set aside.
Ginger salt
Mix ginger and salt in a spice grinder or mortar and pestle. Place in a wide shallow dish and set aside.
Notes
Double this recipe and mix with toppings in a glass pitcher for a fun and festive party drink. Serve with ginger salt rimmed glasses on the side.