Seriously Simple Recipe: Skinny Colada Spritzer
Today we bring you one final farewell to summer. One last summer-esque drink that brings you back to the long, hot days, with plenty of sunshine. This Skinny Colada Spritzer is your solution to a last minute summer refreshment craving.
Appropriately, we are having a warm spell here in Chicagoland, so a summertime drink is exactly what we are craving.
This post contains affiliate links. View our full disclosure here, or contact us.

This post is obviously about this drink, but it is also how many s's can I fit into one title. This is nearly a tongue twister, much like Sally Sells Sea Shells Down By the Seashore. Okay maybe not that bad, but it's close. I bet you remember the title of this recipe though, because as obnoxious as rhymes, jingles, and other headlines may be, they sure are catchy.
I still remember TV commercial jingles from my childhood. For my fellow 80's and 90's kids, let's take a trip down memory lane. Hopefully, you get a kick out of these, because is there anything better than reliving your childhood? Okay, don't answer that.
Commercials
Jingles
Okay, coming back to the purpose of this entire ramble, an Island-inspired fruity and creamy drink.
While the weather is still warm, or once that inevitable Indian summer visits your area, whip up a couple of these crazy easy drinks to help close out the season.

To suit every taste, these can easily be made virgin or include your favorite liquor for an adult beverage. Rum obviously works well here to keep with the Island flavors.
If you make an alcohol-free version, or your pineapple is not ripe/sweet, we suggest adding a bit of honey or maple syrup and blending this with the pineapple. This will add a little extra flavor, while still keeping everything free of refined sugar.
With such minimal ingredients, it is important to include each item. If you don't have a Trader Joe's in your area (sad face), look for other Pineapple or Coconut flavored sparkling water brands.
Either way, these are sure to be the star of your weekend festivities. And while you are at it, pair them with some fish tacos (favorite meal of yours truly), Kalua Pig, coconut shrimp, or any other tropical meal.
And don't forget to dream of being stuck on a tropical island, where you can enjoy this and other beverages for days on end. As long as you have the aforementioned toys and jingles, you will be set.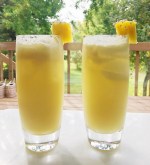 Seriously Simple Recipe: Skinny Colada Spritzer
Only a few ingredients come together to make an island-inspired refreshing drink that is perfect with or without alcohol.
Instructions
In a high powdered blender or food processor, add pineapple, coconut milk, and sweetner if using. Blend until smooth, 1-2 minutes.

Add rum if using, and pulse again to combine.

Split between 4 glasses, and top with Island Colada Sparkling Water. Using a tall spoon, stir water into cream mixture.

Garnish with extra pineapple and coconut flakes if desired. Serve immediately.
Be sure to follow Well Rooted on Instagram and tag your recipes with #theWRlife! You can also share photos on our Facebook page. Thanks a million for your support!