Party Food Reimagined: Cracker Jacks Remix
Summer is here! Or is it still Spring? I seriously cannot tell, especially when our weather yo-yo's from 50's to 90's in 48 hours. Who knows what is going on in times like this.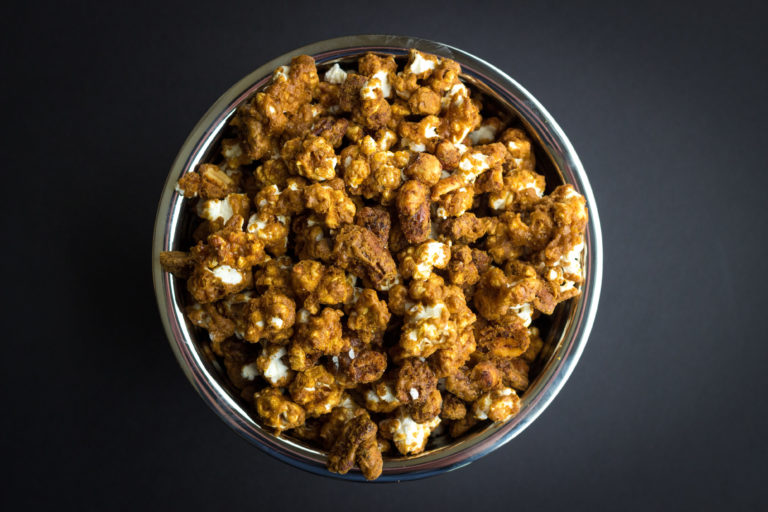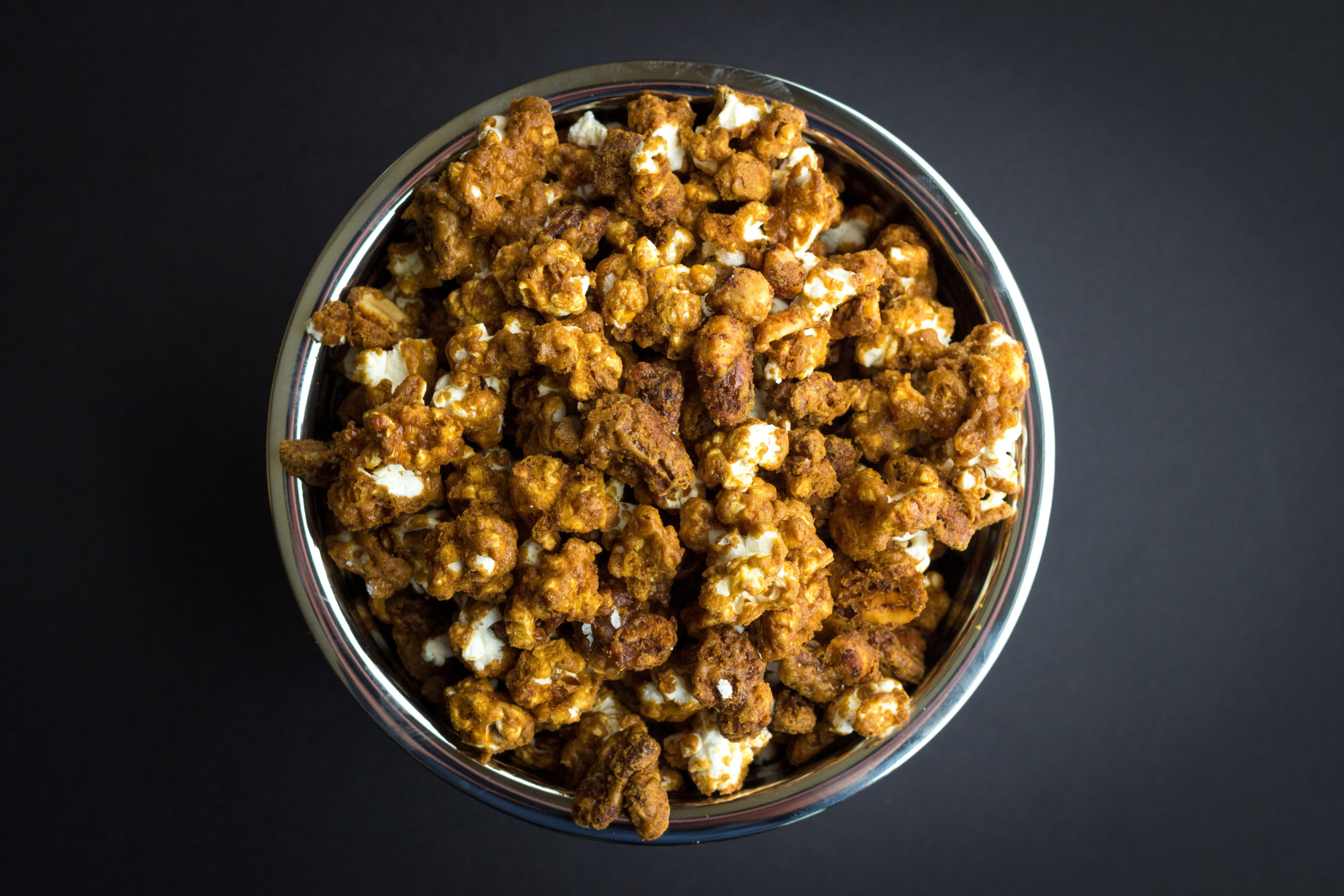 But, let's focus on the good things. The days are getting longer, nights are getting warmer, and we're seeing the sun several days a week. If you live in the Midwest, this is a big deal. We've been stuck in the cloudy, rainy, sometimes miserable rut that is winter/spring. And yes, those seasons are often combined in Chicago, because it is hard to tell the difference.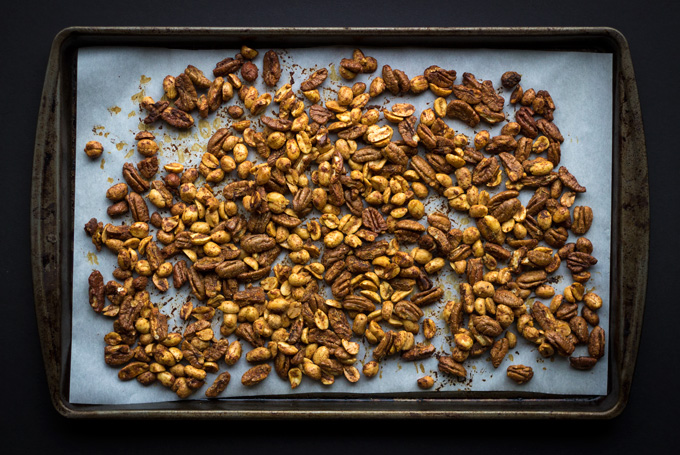 So on to bigger and better things, like pool time, holidays, and baseball. I bet you didn't see that one coming, baseball, what?
I wouldn't call myself a baseball fan per se, I rarely watch it on TV, but nothing compares to experiencing a game at the stadium. It really hits all the senses – the smell of roasted peanuts and grilled hot dogs, the announcer leading the 7th inning stretch, the vibrations of the cheers through your stiff yet comforting seat, and seeing the star player hit a home run with fellow fans all around you. See, nothing beats it.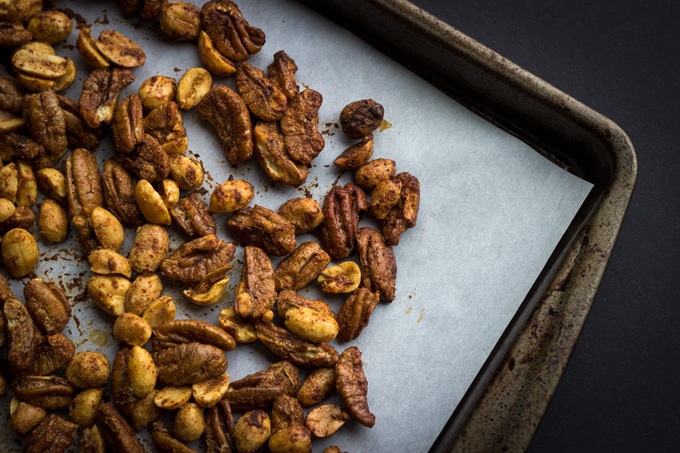 Until you can make it to a live game, you can create a similar experience in the comfort of your own home. And you can do so in honor of the most important man in your life, your dad. Father's Day is coming up people, so it's time to honor dear old dad. Isn't a rule that all dads love baseball? If it isn't, it probably should be. If for nothing else then just so you can throw him a baseball-themed party.
So let's set the scene. First, a quality bar is needed. We love serving cans of beer for baseball, it's very reminiscent of the stadium, after all. Get a big tub or cooler, fill with domestic, imported, and craft varieties, and top with ice. Bar = check.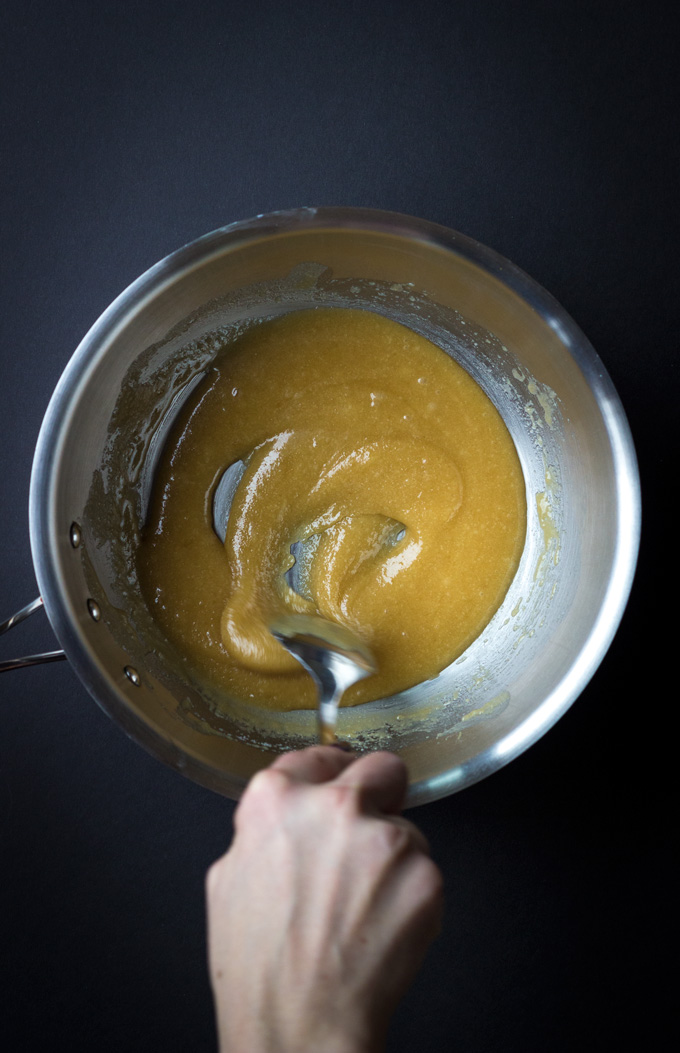 Next up, food. Think a gourmet hot dog and brat bar, grilled burgers and chicken, or loads of finger foods. But the one thing you absolutely need to create a true stadium experience at home? The cracker jacks of course!
The boxed variety is okay, they have some nostalgic value, but they're missing something. And so the Cracker Jack Remix was born.
A spiced nut mixture with a good dash of heat is paired with a heavily coated sweet caramel corn. This leads to the best balance of salty, sweet and spicy, and they are beyond addictive. Make a batch or two, place them in large bowls and set around the bar, kitchen, and near the TV. They are guaranteed to go fast and steal the show. Heck you may even save the day if your home team can't pull off a W.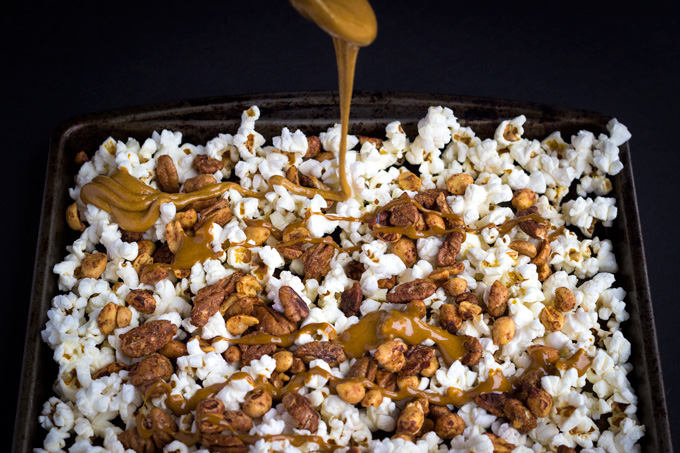 Oh, and one more thing. These make a killer gift for dad, and/or party favor for your guests. Package up several servings in clear treat bags, tie with ribbons in your team's colors, and get ready to be the life of the party.
Cracker Jacks Remix
It's your favorite childhood treat reimagined. The ultimate sweet, salty, and spicy snack great for parties and homemade gifts.
Ingredients
Spiced nuts
1

cup

peanuts

1

cup

pecan pieces

1

teaspoon

cayenne pepper

1/2

teaspoon

smoked paprika

1/4

teaspoon

garlic powder

1/4

teaspoon

onion powder

1/4

teaspoon

mustard powder

1/4

teaspoon

dried thyme

1/4

teaspoon

salt

1/8

teaspoon

fresh cracked pepper

1

egg white

or 1/2 vegan/flax egg
Popcorn
3

tablespoons

high heat cooking oil

avocado, coconut

1/2

cup

popping corn
Caramel
1/2

cup

cane syrup

1

cup

sugar

1

stick

8 tablespoons butter, or butter flavored coconut oil

1/2

teaspoon

baking soda
Instructions
Spiced nuts
Preheat oven to 375. Line a baking sheet with parchment paper and set aside.

In a large mixing bowl add nuts, drizzle with Worcestershire, and toss to combine.

In a separate glass, ceramic or steel bowl, beat egg white on high until light and fluffy, about 1 minute. Carefully fold in spices until combined. Add nuts to egg white mixture and toss to combine.

Pour nut mixture on a parchment lined baking sheet and spread into an even layer. Transfer sheet pan to preheated oven, and bake for 10 minutes, or until lightly toasted and fragrant. Remove pan from oven and set aside to cool.
Popcorn
In a large soup or stock pot, heat 3 tablespoons cooking oil with 1/2 cup popping corn. Partially cover pot, leaving an area for steam to escape.

Set heat to medium high and wait for corn to pop. Shake the pan a couple of times during popping, and remove from heat once popping slows to several seconds in between. Remove pan from heat and pour popped corn into a large bowl.

Once popcorn is cooled, pick through pieces and remove any un-popped kernels. You should have 9-10 cups popped corn.

While your popcorn is popping, lightly grease two baking sheets with butter or spray.

Mix together the spiced nuts and popcorn and separate between two pans.

Reduce oven temperature to 250 and ensure your racks are evenly distributed in order to fit 2 baking sheets.
Caramel
Heat a medium sauce pan over medium-high heat, and add cane syrup, butter, and sugar. Bring to a boil, stirring constantly. Once boiling, remove pan from heat, and stir in baking soda. Mixture will foam and bubble.

Pour half of caramel evenly over each pan, and toss to combine, coating pieces as best as possible. You need to work quickly, the caramel hardens as it cools, so don't spend too much time tossing each pan.

Add both pans to the oven, and bake for 1 hour, tossing every 20 minutes.

Remove sheets from oven, and cool on parchment or wax paper lined sheet pans.
Notes
*To make this recipe Vegan-friendly, substitute a vegan egg for the egg white, and butter flavored coconut oil for the butter.
Recipe adapted from Emeril's Homemade Cracker Jacks